In the second half of last week, we saw some strong price action in the equities market. The SP500 broke through the 5- and 50-day moving averages closing the week just under key resistance levels. The SP500 futures will find resistance at the June high $1,099.25, $1,100, which is whole number then at $1,103, which is the 200-day moving average. Each of these is clumped together making it really just one solid area that sellers will be waiting to short the market.
The market momentum and internals are looking strong for the equities market overall. With last week's strong close, we have been seeing the percentage of stocks closing above their 50- and 200-day moving averages surge from 40%–68% from the previous week. Stocks closing above their 20-day moving average jumped from 40%–82% from the previous week. Seeing this type of shift in the market momentum is generally a bullish indicator.
From a quick glance at the internals, it looks as though Monday will trade flat/negative for the session. Reason being is that the NYSE Advance/Decline line is telling us the market is overbought when looking at a short-term timeframe. I would expect some selling Monday, or possibly we get a gap up, then a selloff early in the session while the market digests last week's strong closing.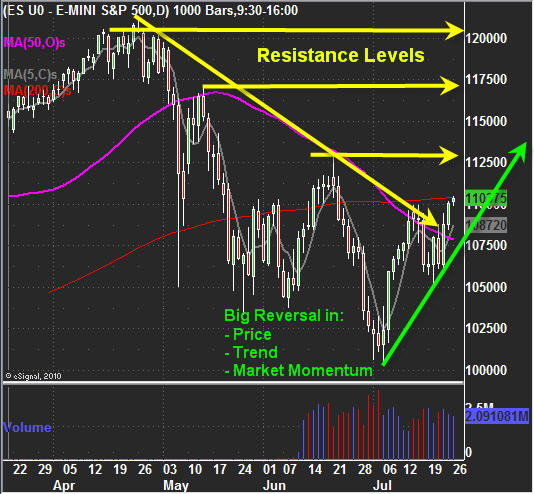 Gold
Bullion has been giving mixed signals for a while now. It looks like there has been a possible ABC retace; but, on the other hand, it looks to be forming a stair-step pattern lower (series of bear flags). Until we get something more concrete from the charts, let's just keep our eye on it for now.
Crude Oil
The past month we have seen oil form a bear flag, which generally leads to lower prices. That said, oil continues to grind its way higher closing at a key resistance level. This could be a possible double top before heading lower, or we could get a breakout and rally this week. I know that does not sound helpful but remember oil is very sensitive to weather (hurricanes), USD and geopolitical events—making it much more unpredictable than one may think. That said, I am not trading it right now.
Pre-Week Trading Warm Up:
I feel the equities market has some strength behind it. But we must see the SP500 futures contract close strongly above the $1,103 area. With the market overbought and trading at resistance, I am favoring some early weakness Monday.
As for the gold and oil, I am just going to keep an eye on them. I'm just not feeling/seeing the patterns I find tradable at the moment for a low-risk setup.
Quick Trading Tip:
I try to always analyze and trade the market the way that has always worked for me, keeping my emotions in control and filtering out as much news, events and opinions as possible so I can think clearly while I focus on my low-risk setups. The past couple months have had big news and events unfolding, making it harder for traders to stay focused. It is crucial for traders to step back and clear their heads from all the news, hype and opinions shared across all the mediums and just look at a simple chart analyzing the price, volume and trend.
If you would like to receive my free weekly trading reports or my ETF trade alerts, be sure to visit my website at:
www.GoldAndOilGuy.com
.
Chris Vermeulen