It was an interesting options expiration week for equities; that's for sure. We saw some very choppy price action with large waves of buying and selling as the bulls and bears fought for control.
Both gold and oil closed lower for the week, which is not a good sign considering the U.S. dollar dropped like a rock along with them.
Below are a few of my charts.
GLD—Gold ETF Price Action
Gold continues to pullback from the June highs. It looks as though it could form an ABC retrace pattern if the July 7th low is broken. If $1085 is broken, we should see gold drop to $1065–$1075 level. On the GLD ETF, that would be around the $112.50–$113.50 level. That should shake out the majority of weak positions and start to rally towards the $1250–$1260 level.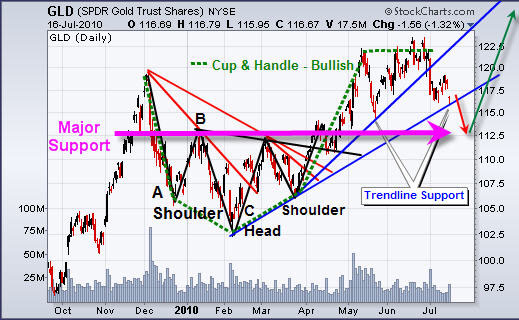 Crude Oil—USO Oil Fund
This is a weekly chart of oil, which clearly shows how selling volume has risen and the trend since 2009 has gone up, sideways, and is now heading back down. The bear flag forming on this weekly chart looks about ready for another leg down. Once that occurs, we could see a test of the 2009 lows.
Using some inter-market analysis, crude oil tends to move in the opposite direction of the U.S. dollar. From a quick glance at the dollar chart, it looks about ready to bounce—which will send oil sharply lower. It will be interesting to see how this unfolds over the next two to three weeks.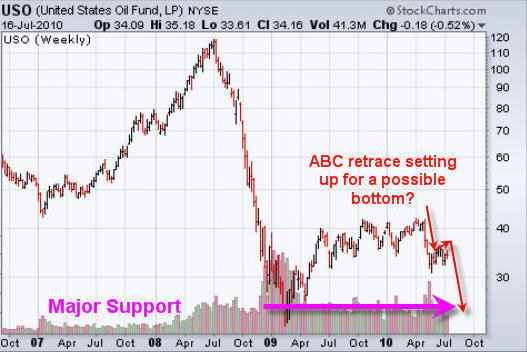 SP500—SPY Index Fund
Friday, we saw some of the SP500 sell off on heavy volume after testing its 50- and 200-day moving averages, which are key levels for trading and investors to take profits or add to their short positions in hope for another multi-day selloff.
That being said, there is still a good chance of higher prices; and, for all we know, this could be the start of another multi-month rally. While I am more inclined for us to play the downside this week, I will not have a problem taking a long position if we start to see the market internals and breadth improve along with bullish price action. I monitor the 60-, 30- and 10-minute charts, which allow me to get a feel for the overall short-term trend and strength.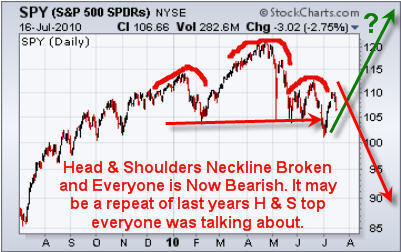 Weekend Trading Conclusion:
Overall, it looks like we could have a couple more days of weakness for stocks and commodities. The U.S. dollar is very much oversold, and as of this writing it looks like it's starting a small bounce. A rising dollar tends to put downward pressure on gold and oil, along with the large multinational companies.
Equities sold off Friday with a slow grind down from 9:30–4pm never putting in any type of bounce when looking at the 60 minute chart. The SP500 and other indexes are way over sold after Friday and I am expecting some follow-through Monday, as investors review the charts over the weekend and see what happened on Friday. That should cause another wave of selling in the morning as traders panic out of positions.
It's going to be an exciting week for sure!
If you would like to receive my trading analysis and trade alerts, be sure to checkout my services at:
www.TheGoldAndOilGuy.com
&
www.FuturesTradingSignals.com
.
Chris Vermeulen