When used properly, the death cross can cut massive losses short. The death cross is so popular because many institutional investors use the 50-day moving average (MA) as a medium-term average and the 200-day as the long-term MA. Basically, the crossover method signals a sell signal when the shorter-term MA crosses the longer-term MA to the downside. A buy signal is identified when the short-term MA crosses the long-term average on the upside.
Crossover methods are easy to program into a computer, but you must use additional clues to create a sell signal. There are frequent whipsaws and failures when you use the crossover method in isolation.
Similarly, back testing the results of the death cross using a computer program won't produce optimal results, as technicians look for additional signs of the breakdown than just the cross.
If the crossover signal is confirmed with a head-and-shoulders breakdown, a cross into new lows and poor price volume action, which is occurring now, I'll patiently wait on the sidelines and look for prudent short points when I see a price reversal and the price coming up to certain resistance. If all these signs come together, the probability of a whipsaw is significantly reduced.
Also important to note—a death cross is further confirmed if the 200-day begins sloping downward after the break. This will act as resistance on the way down.
A look at the Dow death cross of January 2008 shows many signs of a market top and trend change.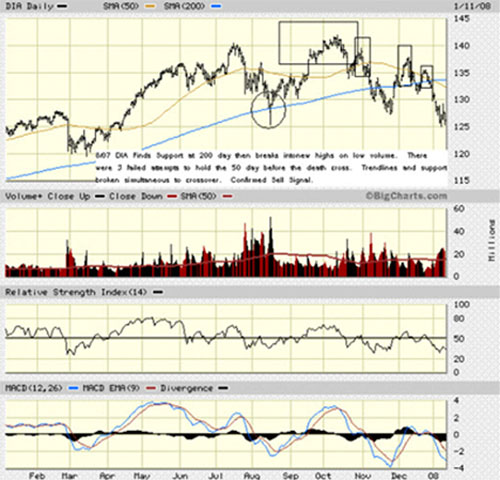 The 200-day, which acted as previous support, was violated on high volume and followed by three failed rallies at the 50-day MA before crossing over. If not followed, investors would have lost more than 60% of their portfolios.
Now is the time to protect your portfolio; consider selling on any bear rallies. I believe this rally will come to an end shortly and we'll continue to trend lower in equities.