Not for carbon—for sulfur dioxide.
As noted by Mark Peters at
The Wall Street Journal:
The original U.S. cap-and-trade market, which succeeded in slashing the power-plant emissions that cause acid rain, is in disarray following the issuance of new federal pollution rules.

The collapse in the pioneering market where power producers trade permits that allow them to emit sulfur dioxide and other pollutants that cause acid rain comes as policy makers seek to establish a similar market to curb the emissions of carbon, a cause of climate change.
The SO2 market has been one of the great successes of economic engineering, using market forces to drive down the cost of cleaning the environment. After almost twenty years of trading, however, the market ran into what may be an insurmountable hurdle: increased regulatory concern about the location of SO2 emissions.
The SO2 marketplace is national in scope, which has been great for establishing liquid trading and allowing emitters to find the cheapest way of reducing emissions. But it also meant that some SO2 emissions would end up in particularly unwelcome spots (e.g., upwind of cities, states or entire regions) that are having trouble meeting air-quality standards.
Over the past couple of years, court rulings and new regulatory efforts by the Environmental Protection Agency have increased the emphasis of the location of emissions. And that means that the national market may be coming to an end.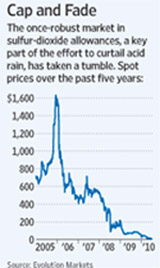 The price decline has been particularly sharp because utilities had been polluting less than allowed in recent years. That allowed them to build up an inventory of allowances to use in the future. With prices so low today, however, utilities have essentially no incentive to avoid sulfur emissions and no incentive to hold allowance inventories.