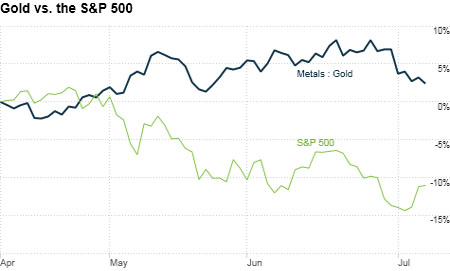 Less than three weeks after gold surged to record highs, the precious metal has scaled back about 5% and is hovering once again around $1,200/oz.
On Thursday, gold for August delivery—the most actively traded contract—was down $7.50, or 0.63%, at $1,191.40/oz.
But the two major factors behind the precious metal's recent highs around $1,250—Europe's debt woes and volatile stock markets—are still major concerns. So what gives?
For the first clue, look no further than July 1—the day gold fell nearly $40.
Good News for Europe, Bad for Gold
Facing the expiration of about $554b, the ECB announced it would assist 78 banks in refinancing their loans. The euro rose after the news and institutional investors, who just weeks earlier had been betting in favor of gold and against the euro, rushed to close out their bets and reap profits at gold's still relatively high prices, said Phil Streible of Lind-Waldock.
Gold was perceived to be a safer alternative to the paper currency; but, in light of the ECB's news, that trade may have run its course.
Deflation, Not Inflation, Fears
Disappointing U.S. economic data may also be leading investors to sell gold. Friday, readings on U.S. manufacturing, housing and jobs all
came in worse than expected
, sending stocks to fresh 2010 lows.
Gold Rush Not Over Yet
But with all these factors in mind, analysts still say gold prices could climb higher. Streible forecasts gold to rebound to as high as $1,325 by year-end.
Investors will be watching for the results of the ECB's so-called financial "stress tests" of 91 banks, which it plans to release on July 23, as a barometer of the region's economic health.