This
item
at
The Economist
offers some encouraging words for precious metals investors, suggesting that now is the time to sell your gold baubles, as the average 2010 price has come within 29% of the inflation-adjusted average price from 1980, offering up this long-term chart that says more about paper money than it does about the yellow metal.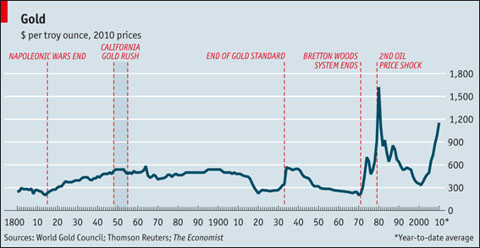 Don't try to probe too deeply the logic behind the advice
"Perhaps now is the time to sell. After the January 1980 peak, the price fell by 55% over the following two years."
What's important to understand here is that bashing gold after the recent correction is just more evidence that the long-term bull market still has a very long way to go.