It's been a short but exciting week so far. Investors and traders have been scratching their heads the past few days as stocks continued to bounce around, giving mixed signals. But today was a clear day of short covering from this much-oversold market condition.
Following are a few charts showing what I currently think will unfold in the near future.
Gold Futures Trading—Two-Hour Chart
In the past couple weeks we sold our position in gold at $1,255–$1,260 area in anticipation for this sharp drop. The market was kind enough to show us through its price and volume action that a nasty drop was just around the corner. Currently, we are in cash waiting for the downtrend momentum to stall and reverse before taking another long position in gold. I feel it could still drop one more time, but the chart is giving mixed signals on the short-term charts.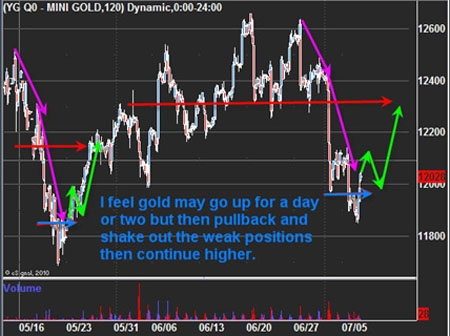 Crude Oil Futures—Daily Trading Chart
Crude has seen a shift in the trend over the past two to three months. Selling volume overtook the buyers and is now pulling prices down into bear flag pattern, which means lower prices still.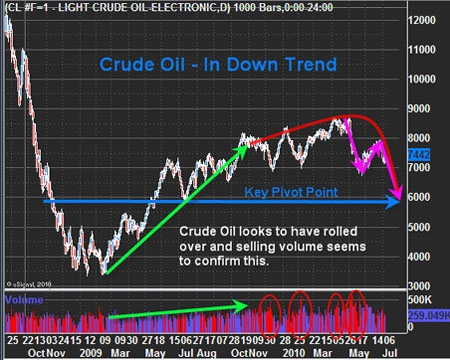 SP500 Futures—60-Minute Trading Chart
SP500 and other major indexes have been selling down the past couple weeks. Tuesday we saw the market gap up very big, and then sell off. But that surge higher was an early warning sign that selling momentum was slowing.
On the SP500, 1075 is a key resistance level and a point that many traders will be taking profits and trying to short the market. It will create a lot of selling pressure at that level, and only time will tell if we can clear it.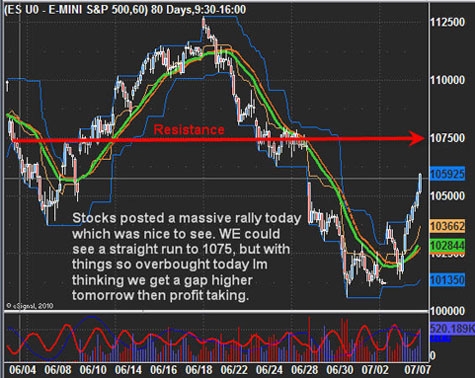 Midweek Commodity and Index Trading Conclusion:
It looks as though we are getting the overdue bounce in the stock market everyone's been anticipating. The large rally Wednesday has covered most of the ground, as it has moved up more than 3% today. Overhead resistance looks to be only 2% away before sellers step back in and try to pull the market back down.
If the market goes up for another couple days, gold should have a small pullback to test support. When the equities market starts to drop again, money should flow back into gold and send it higher as the safe haven of choice.
Crude oil broke down late last week, and this week it bounced back up to retest the breakdown level. This is common and, once complete, oil should continue to drop.
The market is still in a strong downtrend on an intermediate basis, so be sure to lock in profits once your investments reach key resistance levels. If you don't, the market has a way of taking back those gains very quickly in the current market.
To get my detailed trading signals signup to my trading services:
ETF & Futures Swing Trading:
www.TheGoldAndOilGuy.com
ETF & Futures Active Trading & Education:
www.FuturesTradingSignals.com
Chris Vermeulen