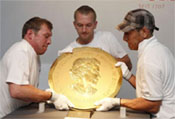 The world's largest gold coin, a Maple Leaf, sold for 3.27 million euros (US$4.02M) at Vienna's Dorotheum auction house.
Gold dealer Oro Direct Sale said it bought the coin, which has a face value of C$1M ($960,000), to exhibit to clients. The pure-gold coin weighs 100 kg (3,215 oz.) and is 21 inches in diameter, according to the Dorotheum's website. The coin is worth 3.23M euros, based on the metal's price yesterday.
Gold climbed to a record $1,265.30/oz. June 21 in London and has gained 14% this year as investors seek shelter from Europe's sovereign-debt crisis and concern the global economic recovery will falter. Coin purchases are tightening supplies and boosting premiums added to bullion.
"We believe that this is a way to demonstrate our opinion that gold is the ultimate store of wealth," said Oro spokesman Michael Berger. "As long as central banks continue to print enormous amounts of paper money, we believe physical gold will be a fantastic investment."
Oro Direct sells gold products produced by the Austrian Mint and Argor Heraeus. The hammer price doesn't include a fee to be paid to the auction house, which drew eight bidders to the auction, said Dorotheum spokeswoman Doris Krumpl. The auction house and Berger declined to state the amount of the fee.
The Maple Leaf, minted in Canada in 2007, is listed in the current edition of Guinness World Records. It was previously on loan to the collection of Vienna's Kunsthistorisches Museum, according to the Dorotheum. One side shows three maple leaves, Canada's national symbol, and the other bears the image of Queen Elizabeth II.
The coin was sold on behalf of the liquidators of Austrian investment and venture-capital firm AvW Invest AG.