Gold:
Gold's slight gains and resilience yesterday has surprised the bears who were expecting further falls. The downside reversal pattern seen on Monday may not have incurred as much technical damage as thought—especially if gold can manage to eke out a higher weekly close this week—above $1,255/oz.
Interestingly the open interest figures only fell 2199 contracts to 600,895, which suggests that rather than spec liquidation, the sell off on Monday may have been a bear raid by shorts in order to flush out speculative longs. In the short term, this may have been a success but as ever supply and demand for physical will be the driving fundamentals of price. Further long liquidation and a lower weekly close would be bearish in the short term.
Gold is currently trading at $1,235/oz and in euro, GBP, CHF and JPY terms, at €1,012/oz, £834/oz, CHF 1,376/oz, JPY 112,339/oz respectively.
Gold in Euro 30-Day (Daily)

The reappearance of risk appetite was brief and concerns about the European banking system and sovereign debt issues continue to bubble along beneath the surface (see Soros warning in News below). The risk of sovereign defaults remains present and thus any pullback in gold is likely to be short lived. Also, the increasing chatter of a move away from the dollar as global reserve currency should see the dollar come under pressure again in the coming months, resulting higher gold prices.
Cross Currency Rates, 1030GMT—GBP, NZD, XAG and XAU Stronger; CAD, AUD, CHF & USD Weaker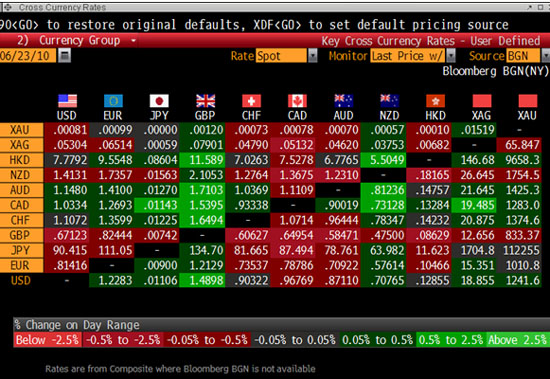 Silver:
Silver is currently trading at $18.91/oz, €15.37/oz and £12.66/oz. Bullion banks have revised up their previous bearish silver forecasts but remain tepid in their outlook for silver despite the strong fundamentals.