Opening up a bearish position yesterday morning not long after trading began, we caught a fine breeze that allowed us to short the Diamonds just pennies off their hysteria-driven, opening-hour high. Here's the trading recommendation exactly as it went out to subscribers the night before:
"Buy four August 98 puts if DIA gets within 0.05 points of the next Hidden Pivot resistance above, 105.92. You should be prepared to buy four more August 98 puts later if the Diamonds get past 105.92, as that will imply they're going to at least 106.73 before a top is in. We are going out to August because the remaining life of the July options will be shortened not only by their July 15 expiration date, but by a holiday weekend."
As it happened, the Diamonds took a powerful leap at the bell, responding to ostensibly bullish news that China will allow its currency, the yuan, to rise. We were in luck to have bet against the crowd, since the rally ultimately went no farther than 105.96ójust four ticks above our target. That gave us a perfect opportunity to get short at the height of the short-squeeze, moments before DaBoyz pulled the plug on frenzied buyers. Look at the following chart if you want to see what a classic bull trap looks like, especially when its sprung on Monday morning news that has been timed for maximum effect: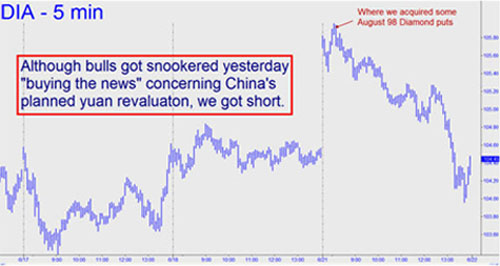 Because we had anticipated the rally top very precisely with Hidden Pivot analysis, we were able to buy August 98 puts for 1.28, three cents off their intraday low. Later in the day, we took a partial profit on the position, selling half of the put options for 1.50. This effectively reduced the costs basis of the puts we still hold to 1.06.