Now that U.S. utilities have used federal stimulus funds to seamlessly build out two-way advanced-metering infrastructure (AMI) connecting utility control centers and end users—not entirely, but let's assume that the "stall-ulus" becomes a true stimulus soon—the question becomes, what's next? At the moment, this new "comm layer" or "platform" has utilities planning in two directions: upstream and downstream from the smart meters. First, they are examining whether and how to leverage these new communication networks to support distribution automation (DA) and grid optimization—some have argued that it's the embedding of sensors and IT onto the distribution grid that is, in fact, the true sense of what's meant by 'smart grid.' Second, utilities are asking—and in many cases, piloting to discover—how best to involve the customer in energy efficiency and demand response programs via home-area networks (HAN) and / or consumer web portals.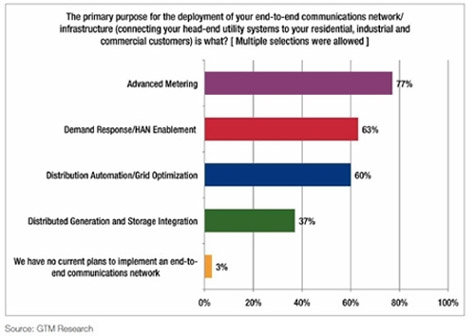 A recent GTM Research report asked more than 50 leading utilities what the primary purpose of their end-to-end communications network is. Though 77% answered "advanced metering," the real promise of AMI is enabling new applications, which was reflected in 63% answering "demand response/HAN enablement." The third-ranked answer, at 60%, was DA and grid optimization. These results suggest that both demand response/HAN enablement (i.e., making consumers smarter) and DA/grid optimization (making the actual grid smarter) can be considered the second wave of the smart grid.
Though DA and HANs are in no way mutually exclusive, I would argue that HANs (which could include the integration of electric vehicles) are going to generate the bulk of the smart grid's long-term value, whereas DA represents a rather large basket of low-hanging fruit for virtually all distribution companies.