Memorial Day traditionally marks the unofficial start of summer, a time when many institutional players simply aren't at their desks and trading activity tends to ebb.
But summer is never a quiet time for the energy industry. This year, the headlines will be dominated by BP's efforts to permanently plug the Macondo well and the spill's political fallout. Summer also marks the peak period of U.S. oil demand. With the economy on the mend and retail gasoline prices off their recent peak, investors will be watching for signs of a further pick-up in U.S. oil demand.
And don't forget about the weather. Current seasonal predictions suggest that the U.S. and Europe are in for a hot summer, setting the stage for a jump in demand for electricity and key power-generating commodities such as coal and natural gas. Most forecasters are also projecting a much worse-than-normal Atlantic hurricane season; the potential for multiple storms to impact the Gulf tends to put a floor under natural gas prices.
As I've written in recent issues, risk of a double-dip recession is minimal and fears of a global credit contagion are massively overblown. U.S. economic data remains broadly supportive of upside. The latest reading of the ISM Manufacturing Index is a case in point.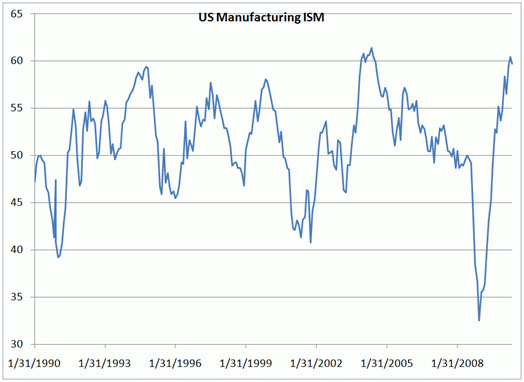 The ISM Manufacturing Index, a measure of U.S. manufacturing activity fell from 60.4 in April to 59.7 in May. But levels above 50 indicate growth in manufacturing, and the ISM tends to be weak in May because of seasonal factors. Economists had called for the index to decline to 59, so the May report was better than expected.
Furthermore, the general trend remains positive for manufacturing; the index has been above 50 for 20 consecutive months.
Friday's non-farm payroll report is another key piece of economic data. The consensus expects the release to show that the U.S. added 500,000 in May. Economists estimate that the U.S. Census Bureau accounted for 300,000 of these jobs, suggesting that the private sector created 175,000 to 200,000 jobs last month. The market will react primarily to the pace of private-sector hiring.
Here's a look at the non-farm payrolls data over the past few years: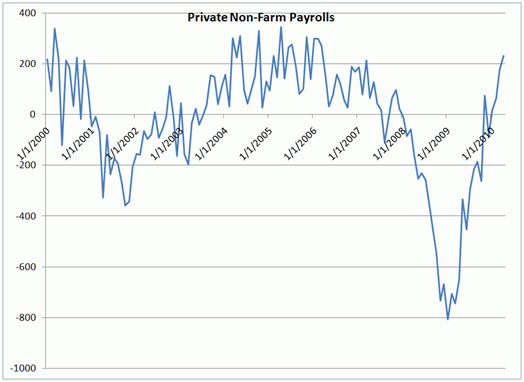 Last summer I made the case that the U.S. economy was emerging from recession; the Conference Board's Leading Economic Index (LEI) had turned positive on a year-over-year basis and global credit conditions were easing.
Each time I explained my outlook, I received e-mail asking about the jobs market. It's a common misconception that economic growth can't occur without job creation.
But employment is usually a lagging indicator. In the early stages of a downturn, companies are usually reluctant to lay off workers because of fears that they'll be understaffed if the downturn proves short-lived. By the same token, it takes companies a while to gain enough confidence in a recovery to resume hiring.
Every business cycle includes a small cadre of market bears who argue that employment is no longer a lagging indicator but a sign of what's ahead. Remember that the most expensive words in finance are "this time it's different"—employment and, in particular, the unemployment rate remain lagging indicators for the economy as a whole. As you can see in the graph above, U.S. private payrolls began to grow a few months ago—long after the economy troughed.
An uptick in employment will reinforce the economic cycle; job creation drives consumer confidence, spending and income growth. If May's employment report indicates that over 200,000 jobs were created, this reading would drive a stake through one of the last remaining bearish arguments against the U.S. economy.
Data out of Europe's core economies also remains on track. One indicator to keep an eye on is the Eurozone Manufacturing Purchasing Managers Index (PMI).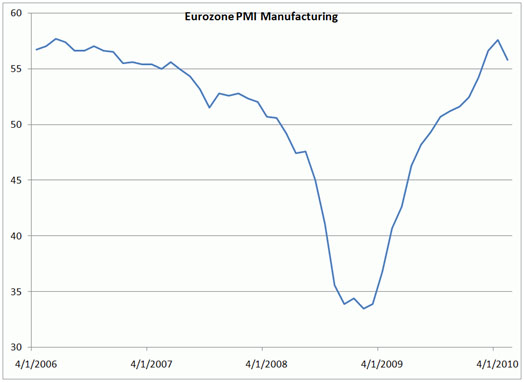 PMI readings above 50 reflect an expansion in manufacturing activity. At 55.8, the index is only slightly off the 57.6 reached in April; manufacturing activity continues to pick up.
And if you're predicting a double-dip recession, you're not playing the odds. A good working definition of a double-dip recession is an instance where the economy exits recession and then re-enters within one calendar year.
Consider the official business cycle dates from the National Bureau of Economic Research (NBER). From 1854 onward there were a total of 33 economic expansions, but only three of these expansions lasted 12 months or less. If we widen the definition to include expansions of 18 months or less, the number of double-dips climbs to just five.
By my definition, the last double-dip recession occurred in the early 1980s. The economy expanded from March 1975 to January 1980, then entered a recession that lasted a total of six months. (Incidentally, this recession was the shortest of any in U.S. history as declared by the NBER).
The economy then expanded from July 1980 to July 1981, before re-entering recession. This time the recession was both far longer and far deeper; the economy shrank for 16 straight months, and some indicators suggested that the contraction was on par with the recent downturn.

Happily, that nasty retrenchment gave way to a series of much stronger cycles. The U.S. economy enjoyed three of its longest expansions in history from November 1982 to November 2007.

But consider what precipitated the double-dip in the early '80s. In June 1980, the federal funds rate hovered around 9%, but by December of that year, under the leadership of Federal Reserve Chairman Paul Volcker, the rate was around 20%.

The Fed kept rates in the upper-teens to low 20s until mid-1981, and rates didn't break below 10% until late August of 1982.

In other words, the Volcker Fed engineered the vicious double-dip recession of the early '80s in an effort to break inflation's back. The strategy was painful in the short term, but inflation fell steadily in ensuing years, paving the way for a new era of prosperity. It took a massive monetary-policy intervention to kill the economy's upside momentum in the early 1980s.

No such monetary policy shock looms this cycle. In fact, until the EU's sovereign debt scare began to grab the headlines in late April, one of the main headwinds markets were expected to face over the coming year was the gradual reversal of extraordinarily accommodative monetary policy put in place during the 2008 crisis. In fact, many economists had expected the Fed to hike rates sometime in the back half of 2010. But the threat of credit contagion from Europe, no matter how remote, will likely keep the Fed on hold until 2011.

For the record, to find another double-dip recession, we have to go back to the 10-month expansion in the early 1920s and the 12-month upturn that got underway in late 1914.

A Credit Shock

Bearish analysts argue that tightening in global credit markets—a product of Europe's sovereign debt scare—could shock the economy into a double-dip recession.

Although a contagion on the scale of what happened in 2008 would have that effect, credit market indicators still aren't even close to the distressed levels witnessed in 2008. I wrote extensively about indicators of credit market health in "The Big Picture: Energy Stocks and Europe's Debt Crisis," but here's a quick update. Let's start with a look at the TED Spread: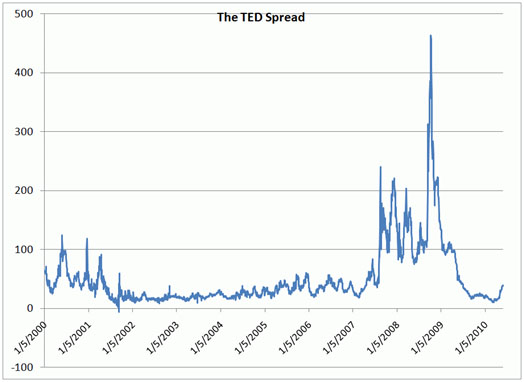 The TED spread is a popular indicator of conditions in the interbank lending market. It's calculated by comparing the three-month London Interbank Offered Rate (LIBOR) to the yield on a three-month U.S. Treasury bond. LIBOR is the interest rates banks charge to loan to one another; an elevated TED spread indicates that banks are reluctant to lend to one another.

At the height of the 2008 credit crisis, Lehman Brothers' bankruptcy sparked fear that other big financial institutions might be teetering on the edge of insolvency. LIBOR skyrocketed, the TED spread soared and the interbank lending market ground to a halt. Because LIBOR and the interbank market are key benchmark rates for all sorts of loans, these issues spread across the credit spectrum.

As you can see, the TED spread has ticked up but remains at less than 40 basis points (0.40%)—roughly one-tenth highs reached during the credit crunch. At current levels the TED spread is in line with its long-term average.

Risks to the interbank lending market still exist, particularly in Europe. French and German banks have the most exposure to loans in fiscally troubled Greece, Portugal, Spain and Italy. And some Spanish banks are suffering from bad loans related to the country's real estate boom and bust over the past few years.

However, these risks have had only a minor impact on LIBOR thus far. And the EU's trillion-dollar bailout package, coupled with fiscal austerity measures in affected countries, should further reduce risks of a massive sovereign default that puts major European banks in financial trouble.

Prices for credit default swaps (CDS) on debt issued by Italy and Spain show signs of stress. CDS are a means of insuring a bond against default; a rising price for CDS suggests growing risks of default. Here's a look at the CDS market for both Italy and Spain's bond issues.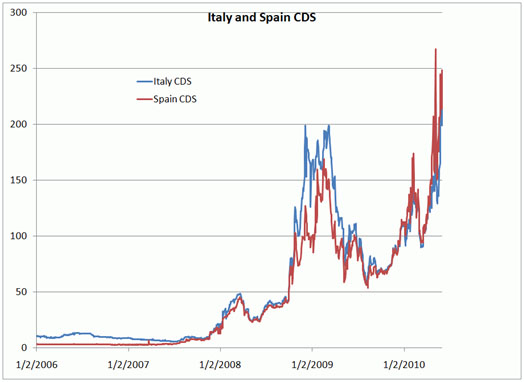 As you can see, CDS prices rose sharply in late April, fell when the EU announced its bailout package and soared once again in mid-May. A significant decline in these CDS prices would represent a major fundamental support for global markets.

I expect these CDS markets to begin to stabilize over the next few weeks; despite all the headlines about riots and protests, the fiscally troubled EU countries are successfully passing massive austerity packages.

How nervous are traders? The media emphasized that the Spanish austerity bill passed last week by a single vote. But the main opposition to these measures came from Spain's major opposition party, the center-right Popular Party. Why did the Popular Party vote against the austerity package? Its members sought deeper spending cuts. The close vote is hardly a sign of Spain's reluctance to take the steps needed to shore up its fiscal situation. And the bill included unpopular measures such as significant pay cuts for public-sector employees.

And that's not the only example of irrationality. On Monday and Tuesday the euro tumbled in value against the U.S. dollar, retesting recent lows around $1.21. Many attributed this drop to a report from the ECB estimating the potential write-downs EU banks would need to take. Specifically, the ECB's semiannual Financial Stability Review indicated that banks potentially face around EUR195 billion (USD240 billion) in write-downs for 2010 and 2010—EUR 90 billion this year and EUR105 billion in 2011.

Yet this estimate is lower than the EUR553 billion in write-downs the ECB said EU banks could face in its December report.

This knee-jerk selling suggests that negativity is running high—just the sort of sentiment that occurs at market lows. It also represents a marked contrast to mid-April when market participants embraced risk and appeared upbeat the economy and market's prospects.

And credit concerns should gradually ebb as EU members approve the bailout package and fiscally strained governments continue to pass major spending cuts. Also, I expect headline risks to subside this summer, as many Europeans will be on holiday.

More broadly, unless we see a big jump in the TED spread or other signs that the EU's sovereign crisis is infecting global credit markets, the risk that these issues will precipitate a double-dip recession appears remote.