Crude oil, as represented by the USO ETF, has been on a slide since hitting a high of $42.19 on April 6th. USO was trading at $32 and change Friday. This is a 23% decline in the last six weeks. What has happened in the oil patch to cause the decline? We have had increasing inventories, but is the build in inventory responsible for the price decline?
The answer is no. Inventories have been slowly building. Domestic production is up 200,000 bpd during the last month over year-ago levels. Imports are up 400,000 bpd over last year. Our economy is improving, if we look at how much crude oil refineries are purchasing. Refinery inputs are 400,000 bpd higher than last year.
U.S. inventory is actually lower than last year when we look at the "days of supply." This considers the amount of inventory divided by the daily usage. Even with our higher inventory, we currently have 24 days of supply compared to 25.6 last year.
U.S. crude oil inventory is 362.7M barrels as of last week. One year ago, inventory stood at 368.5M barrels. Last year was higher than the top of the five-year average range. This range is 320M–355M barrels. Thus, we are above the five-year average range, but we must remember three of those years were before $145/barrel oil destroyed demand and the credit crisis that slowed economic activity.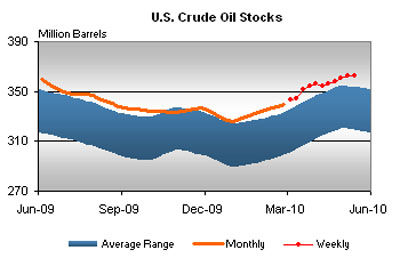 This chart shows us where our inventory is compared to the average bandwidth. It also shows the trajectory of the week-to-week inventory.
For short- and long-term gains look to the USO ETF. It is oversold, and we are coming into the summer driving season. The same economic recovery we see in the U.S. will drive demand for more energy worldwide in the future.
The market is in a full-scale selloff. My advice to friends and subscribers is to relax. Buy companies if you can't ignore the wonderful price being offered, then go on vacation. We expect a bounce as the market is oversold. We don't know if a low has been put in, but the economy is growing and companies are making profits.