Back in the third week of April, I predicted here on Kitco.com a
topping in the broader market indices
. The theory was the VIX levels were extremely and historically too low, concomitant with extremely high historical readings in investor bullish sentiment gauges. After 13 Fibonacci months of a bull cycle rally, it was likely an ABC correction to the downside would begin. In further follows ups on TheMarketTrendForecast service I ran on April 20th, I again outlined concerns with falling volumes on small cap stocks and too many "stories" being run up too far ahead of the economics.
At this point in the bull market, it is common to have the crowd of investors move from a bias towards viewing all news as positive to a negative slant on all news. Nothing has changed dramatically on the problems the world had before with Debt and currencies, but the reaction to those events turns negative. This works off the overly-optimistic Elliott Wave patterns of the crowd, turning into a typical zig-zag correction that lasts several months. There will be trading opportunities between that Mid-April topping forecast and my forecast for a bottom around mid-September. However, as recommended in April, index investors and mutual fund investors should have been moving to the sidelines. I am looking for the SP500 Index to drop to the 920–970 areas by mid-September before the next leg of the bull market takes off. Now, the one caveat to that forecast is actually a lot more bullish. If the SP500 can hold the 1100–1110 areas and pivot up strongly, we could move on to new highs. I put the likelihood of that around 20%, so be on guard. A counter-trend rally up in the next few weeks is highly probable, but the evidence continues to suggest working our way down into the 900s in the SP500 before the bull resumes in earnest. We are selectively buying gold and biotech stocks in the Active Trading Partners service, as well.
Gold has continued higher confirming my April 20th forecast on
www.TheMarketTrendForecast.com
a move from $1,125 to $1,235 in gold. The Elliott Wave patterns remain extremely bullish for gold to continue a 13 Fibonacci year cycle up into 2014. Gold has formed a very bullish pattern intermediately for a move to $1,470–$1,550 at the next major pivot top. In the interim, I expect continued consolidation in and around my US$1,235 levels before the next pivot high at $1,300–$1,325. Fiat currencies are burning matches as foreign governments and other entities continue to attempt to put out a fire by printing more paper and covering the same fire with it. Until the analysts on CNBC stop questioning the validity of gold and start questioning the validity of fiat paper, the bull will rage onwards with most of the pundits watching the caboose from the back of the tracks.
SP500 forecast from the Mid-May TMTF forecast service updates: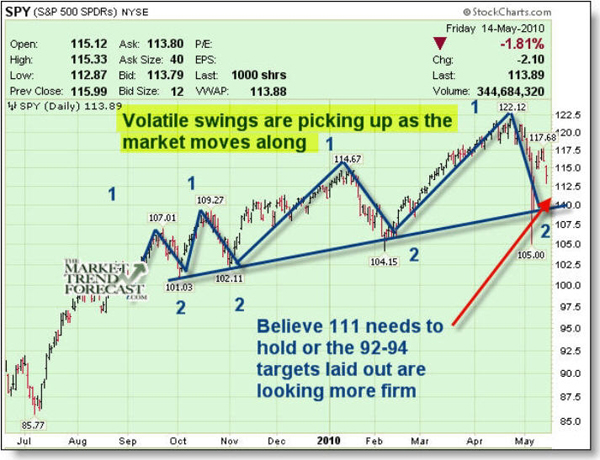 Gold forecast is for $1,570 over six to nine months with pivot at $1,300: