Real-time Monetary Inflation (last 12 months): - 1.4%
Look below. THAT's a nice chart. Being long palladium—or its security proxy, the ETF Physical Palladium Shares (PALL)—has been a good, a
very
good, trade this year.
Weekly NYMEX Palladium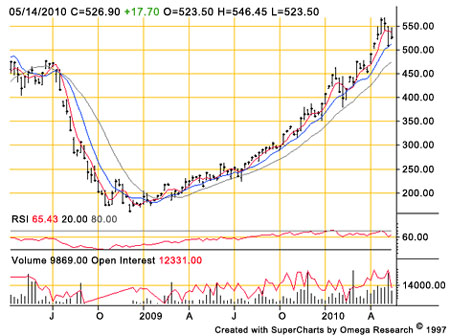 So what's not to like?
Well, there's Europe, for one thing. Worries about a potential weakening in Continental auto demand are bound to plague platinum group traders now. But there's something more immediate that's even more vexing.
The last time palladium prices got to this level—in February 2008—volume was twice as high as now. Open interest, too, was higher. That says there's been less commitment to the 2010 price run.
And, if we look at the money flows for that palladium security proxy, we can see a progressive draining of capital over the past month. Another worrisome sign for bulls.
PALL Closing Prices vs. Money Flows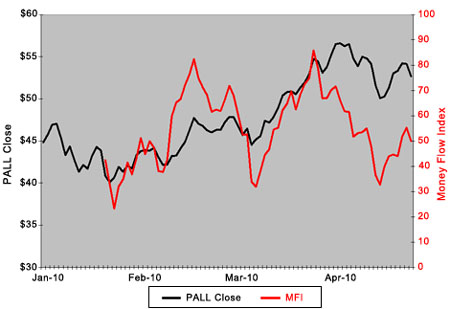 Currently, PALL shares are probing below a critical support level at $50. A close below the half-century mark would give bears the confidence to challenge the $47.80 level, which, if reached, would retrace half of the February-April run up. And that would be very bearish for palladium, putting support at $45.60 in sellers' sights.