Last Thursday the DOE kicked-off a new effort to develop its first-ever strategic plan to address the role of rare earths energy technologies by releasing a
Request for Information
on resource availability and supply security over both the short and long term:
demand forecasts for energy applications and competing issues;
supply issues including investment trends, processing requirements and future research;
technology applications, required quantities and purities, processes and innovation;
costs, availability and impact on energy application costs;
substitutes for constrained materials;
recycling opportunities, capacities/challenges;
intellectual property constraints; and
additional information
While it's unsettling that the DOE has previously adopted major policy initiatives without understanding material supply chains (think corn ethanol), even a belated recognition is better than blind adherence to the presumption of plenty.
The greatest challenge of this century will be finding relevant scale solutions to persistent shortages of water, food, energy and every imaginable commodity. The challenge is even greater in alternative energy because so many green technologies voraciously consuming scarce raw materials.
My friend and colleague Jack Lifton presented a table summarizing global mineral production—spanning five years—at a recent conference. An abbreviated version follows—focusing on key minerals for alternative energy. Annual production is measured in thousands of metric tons and calculates our per-capita share of mineral production in 2009 based on a 6.8 billion global population.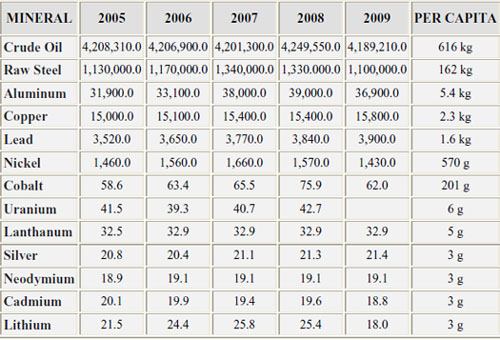 We've forged an energy policy without questioning our assumptions and are destined for disaster when gee-whiz technical feasibility hits the brick wall of constraint.
The battery industry has known for years that NiMH chemistry was seriously constrained by the availability of the rare earth metal lanthanum. Soon, we'll face even more daunting constraints looming for the rare earth metal neodymium, which is essential for the permanent magnets used in both wind turbines and electric motors.
In the not-too-distant future we'll need to identify the highest and best uses of scarce raw material. . .the RFI is a good first step.