As a general rule, the most successful man in life is the man who has the best information
There are three things every energy investor needs to know about oil:
Since the early 1980s, new discoveries have failed to keep up with the global rate of oil consumption.
China's General Administration of Customs published figures showing imported oil in December hit a record 21.3 million tons, which pushed the country's 2009 total oil imports to 204 million tons. Imported crude oil accounted for 52% of the country's total oil consumption last year.
Production is already rapidly declining from some of the world's largest fields. Oil production from the world's top +200 projects peaked in 2009 and production levels are seen to be falling for the foreseeable future.
To summarize:
Goldman Sachs says 2010 oil demand growth will deplete historically high inventories over the next 12–18 months
Diminishing production rates in key areas around the world will create a supply/demand imbalance
New discoveries are not on pace to replace consumption
In this article, I'm going to introduce you to a company that is doing greenfields exploration in a frontier area that seems to have "the right stuff"—individual trapping situations are estimated to hold up to 230 million barrels of energy (boe) in place at depths of 300 to 900 meters. The company expects to pay for a very large majority, if not 100%, of their exploration and drilling expenses with free cash flow from their Canadian oil/gas production.
Texalta Petroleum Ltd. TSX.v—TEX.A

Texalta's Canadian operations are in southeastern Saskatchewan where:
Texalta holds working interests ranging from 16.5%–to 71.6% in 16 producing oil wells.
Texalta has created the infrastructure required to market its own production and generate revenue through its 32.82% ownership interest in two processing facilities.
Texalta is the operator and 47.5% working interest holder of the Wordsworth project area
TEX.A is a joint venture partner in the Queensdale/West Queensdale area with working interests ranging from 28.89% to 73.1%2.
Texalta has 50% working interest in the Wildwood/West Wildwood project.
Texalta holds significant working interests in developed and undeveloped prospects in the South Wildwood, Carlyle/East Carlyle, and South Queensdale areas of southeast Saskatchewan.
Texalta also holds a 47.5% working interest in 2000 acres of prospective Bakken rights located below the prolific Mississippian (Alida) pool at Wordsworth, Saskatchewan.
Wordsworth
—Drilling operations at Wordsworth commenced on May 15, 2006 resulting in a new pool discovery.
The Wordsworth area now sports a fully operational processing facility including a salt water disposal well and flowline.
Texalta holds a 47.5% working interest in the Wordsworth project area and is the operating partner. As of the end of March 2010 Wordsworth is producing 258 bbls per day of which 114 bbls per day is net to TEX.A
The Wordsworth project area consists of more than 4,000 acres of Crown and Freehold mineral leases. The Wordsworth pool can potentially accommodate an additional 8 wells.
West Queensdale
—Drilling operations began in November 2006 at West Queensdale, Saskatchewan. Texalta (25.55% working interest) and partners drilled two development horizontal wells on the eastern side of the project area, which offset a step out vertical well at 8-25-6-2 W2 that produces from the Mississippian (Alida) formation. West Queensdale is an older field with 11 producing wells.
West Wildwood
—At West Wildwood, Texalta (50% working interest) and its partners have 800 acres of Crown and freehold mineral leases, with extensive seismic coverage.
Drilling operations were completed on July 11, 2007 on the Petrex Texalta Wildwood West HZ 4A16-34 / 4D4-2-7-2 W2 and by mid November 2007 the well was tied into the processing facility at 8-26-6-2 W2M.
This well was the first horizontal test on a linear structure about one and a third miles long and 1/3 mile wide. The well can be termed a new pool wildcat - which is a well on a separate feature outside the limits of a defined pool but productive from the same zone as a nearby pool (Wildwood). The structure can accommodate at least four horizontal wells; one parallel to the first about 150m NW and then two more to the south parallel to the first.
West Wildwood currently has one producing well. Between West Queensdale and West Wildwood production at the end of February 2010 totalled 47.5 boe per day for net to Texalta of 29 boe per day.
Current Free Cash Flow (FCF) after Operating and Capital Expenditures (in thousands of $s)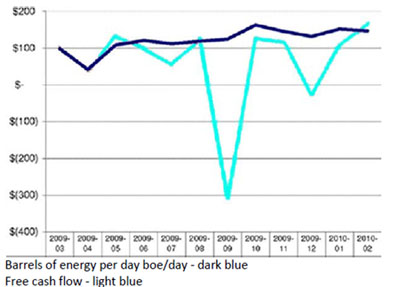 Georgina Basin, Northern Territory, Australia
Texalta, through its wholly owned subsidiary Texalta Australia Pty Ltd., holds a 50% working interest in 5.5 million acres of Exploration Permits in the Georgina Basin, Northern Territory ("N.T.") of Australia.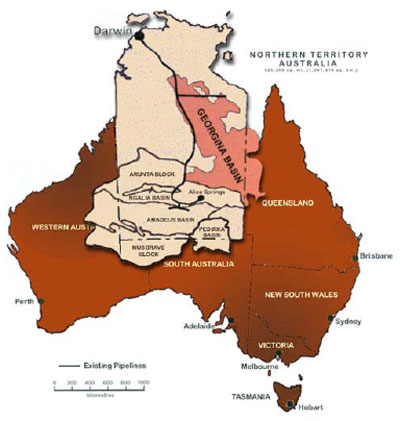 In a presentation entitled "Onshore Hydrocarbon Potential—2006" the N.T. Geological Survey identified several seismic based leads with potential oil pools in the 70 to 230 million barrel range.
The Georgina Basin is a large intracratonic basin and covers most of the central-eastern part of the Northern Territory and is one of the most prospective undeveloped onshore petroleum provinces in the Northern Territory.
Intracratonic basins are worldwide in occurrence - other well-known intracratonic basins are the highly productive Williston Basin (located in North Dakota and Montana in the U.S. and Saskatchewan, Canada) and the Parana Basin in South America.
The Cambrian strata of the Arthur Creek (Georgina Basin) is considered to be similar to the Mississippian succession of Western Canada that has produced more than ten trillion cubic feet of gas and one billion barrels of oil.
Although the Georgina Basin has not had a discovery to date the region is believed to have all of the prerequisites needed for oil and gas entrapment, migration and production. Individual trapping situations in the Georgina Basin are estimated to hold up to 230 million boe in place at depths of 300 to 900 meters.
Approximately 90% of the Northern Territory's prospective onshore basins are currently under license or application, compared to less than 10% a few years ago. The significant increase in land area under license or application suggests a growing interest in the area among exploration and producing companies.
In June 2009 Texalta Australia Pty. (TAPL) completed a 240 kilometer 2D seismic program.
Joint venture partner Georgina Basin Energy Pty. Ltd. (GBE) has been appointed operator of the project and upon full expenditure of the remaining agreed upon earn in funds - $3.25 million held in trust - will have fully earned its 50% working interest in the permit areas.
The Future
Texalta recently announced that pursuant to a Letter of Intent dated September 14, 2009, Texalta and Rogers Oil and Gas intend to enter into a more definitive Exploration and Development Agreement. The Agreement will outline the drilling program for a combination of up to 20 development and exploration wells in the Wordsworth, West Queensdale and Wildwood project areas in southeast Saskatchewan.
The capital input from Rogers (or its affiliates) may range as high as $22.4 million to be cash called on a well-by-well basis. To date, Rogers or its affiliate, has participated in six drilling projects with Texalta and partners since 2008.
The current drill program, which started the 28th of April 2010 consists of three wells:
West Wildwood HZ Alida
West Queensdale HZ Alida
West Queensdale HZ Alida
The August drill program currently has two wells scheduled to be drilled:
West Queensdale HZ Alida
Wordsworth HZ
Planned wells:
Carlyle Deep Vertical
Wordsworth Horizontal
Wordsworth Deep
Wordsworth Vertical Alida
Alamada Deep
Undetermined
Wordsworth HZ
West Queensdale HZ Alida
Texalta is fully funded for its current and anticipated August drilling program in the Wordsworth, West Wildwood and West Queensdale areas.
Bakken
The Bakken oil formation lies in the Williston Basin, a geological formation in the north central U.S., underlying much of North Dakota, eastern Montana, northwestern South Dakota, southern Saskatchewan and Manitoba, Canada.
The presence of the Bakken formation (located below the prolific Mississippian (Alida) pool at Wordsworth, Saskatchewan) is confirmed in wells to the north and south of the prospect area.
Texalta's plan for drilling their Bakken acreage is to lay off the risk of drilling these wells to farm in partners.
Australia
The southern Georgina Basin is a large petroleum exploration province which in the current oil price environment offers companies attractive and cheap entry acreage for explorers targeting green field exploration in basins with shallow oil potential.
Given the gas flow from Ethabuka-1 (recovered gas at 6,000 m3 per day - 240,000 cfd) deeper gas prospects in the Toko Syncline should also have a high priority.
Texalta Australia and joint venture partner Georgina Basin Energy GBE (GBE is a wholly owned subsidiary of Australia Energy Corporation - AEC) have been engaged in meetings and preparations for the next seismic program (additional seismic data is necessary to identify four way closure on generated targets) which will cover 300 to 500 km and is anticipated to start by June of 2010 subject to receiving all government clearances and approvals. This seismic program will be paid for by the $3.2 million GBE final earn in money held in trust by TEX.A.
AEC has said that it is of the opinion that the geology of the Southern Georgina Basin is analogous to areas of the Western Canadian sedimentary basin, where its team has extensive exploration experience.
"We expect to generate a lot of revenue from Saskatchewan operations which we will use to drill the Australian targets, and at the same time attract farm-in partners." William Nixon, president, Texalta
Key Features:
Positive cash flow that they have an excellent chance of increasing from their Saskatchewan operations
No debt
Low outstanding share count with high insider ownership
Company management believes that operations should be run from cash flow and not debt or equity financings
A very small organizational footprint. TEX.A keeps costs low by employing external technical consultants which gives them the flexibility to scale up and down as developments require. Texalta is thereby able to accomplish the same things as much larger companies for a much smaller cost
The presence of the Bakken formation located below the prolific Mississippian (Alida) pool at Wordsworth, Saskatchewan
Enormous blue-sky potential combined with first mover advantage in securing their large (5.5 million acres) and very prospective Australian land package
Conclusion
The holy grail for investors in the junior resource sector is finding that very rare company committed to and able to fund exploration activities and drilling from free cash flow.
The information Texalta is releasing in regards to its Saskatchewan operations leads me to believe that they could have a remarkable production and cash flow engine in Saskatchewan, Canada. This free cash flow should pay for exploration and drilling in what is a very prospective and undeveloped onshore petroleum province in the Northern Territory of Australia.
The use of free cash flow to fund activities gives investors maximum exposure to any discovery—if they make one. If not, they can try again without going to the markets for another round of dilutionary financing.
Free cash flow from Texalta's Saskatchewan Mississippian Alida formation wells - plus the potential from deeper zones - funding exploration and drilling activities, matched up with the considerable blue-sky potential in Australia makes this company worth having on your radar screen.
Is it on yours?
Richard (Rick) Mills
[email protected]
www.aheadoftheherd.com
If you're interested in the junior resource market and would like to learn more please come and visit us at aheadoftheherd.com
Richard is host of aheadoftheherd.com and invests in the junior resource sector. His articles have been published on over 200 websites, including:
Wall Street Journal,
SafeHaven, Market Oracle,
USAToday, National Post,
Stockhouse, Casey Research, 24hgold,
Vancouver Sun,
SilverBearCafe, Infomine, 321Gold, Kitco, Gold-Eagle,
The Gold/Energy Reports, Calgary Herald
and
Financial Sense.
Legal Notice / Disclaimer:
This document is not and should not be construed as an offer to sell or the solicitation of an offer to purchase or subscribe for any investment. Richard Mills has based this document on information obtained from sources he believes to be reliable but which has not been independently verified; Richard Mills makes no guarantee, representation or warranty and accepts no responsibility or liability as to its accuracy or completeness. Expressions of opinion are those of Richard Mills only and are subject to change without notice. Richard Mills assumes no warranty, liability or guarantee for the current relevance, correctness or completeness of any information provided within this Report and will not be held liable for the consequence of reliance upon any opinion or statement contained herein or any omission. Furthermore, I, Richard Mills, assume no liability for any direct or indirect loss or damage or, in particular, for lost profit, which you may incur as a result of the use and existence of the information provided within this Report.
Richard Mills does not own shares in any company mentioned in this article; Texalta Petroleum Ltd. is an advertiser on
www.aheadoftheherd.com
.