Silver quotes have come back down to earth with a thud, so perhaps it's time to review our outlook, which was, and still is, quite bullish for both the intermediate and long-term. The Comex July contract has shed a hefty 10% of its value since Tuesday, settling at $17.51 yesterday after peaking just two days earlier at $18.89. Although this has caused some gnashing of teeth and sporadic expressions of anguish in the
Rick's Picks
chat room, long-term bullion players who frequent the room seem to be taking the move in stride.
As you can see in the following May futures chart, the rally left one key high at $18.91 recorded in January undisturbed. Although climactic buying missed exceeding that peak by just 2.5 cents, it was enough to make any selloff that followed a possible threat to the short-term picture.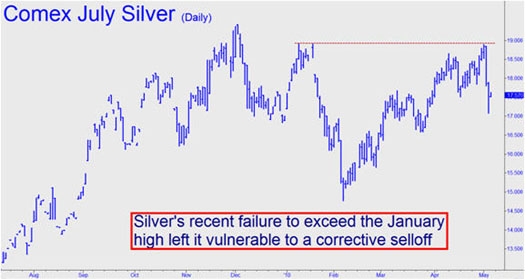 That threat was "actualized," as they say, by this week's steep selloff, but it remains to be seen how much more damage will be done. So far, it is minimal, and we therefore still expect the futures to hit a very bullish 21.53 by mid-June. That is our target for the July contract, and it was mentioned in last week's commentary along with a secondary target at $20.21. At what point would our outlook turn intermediate- to long-term bearish? That would take a print below $13.89(!), because, according to the rules of our proprietary Hidden Pivot trading system, that's what is required to turn the weekly chart bearish. With respect to the daily chart, the July futures need only dip below $16.590 by Friday to hint of serious trouble. That's hardly unlikely, but even if it were to occur we would give the long-term bullish trend the benefit of the doubt until such time as the weekly chart confirms the negative.