After months of consolidation, gold finally broke through key resistance of $1,160 to its highest level in 2010—just over $1,180. It also set new record highs in euros, francs and pounds as ratings downgrades of Portugal and Greece fanned sovereign risk and contagion fears. The price of the yellow metal in euro and GBP terms went above €885/oz and £767/oz, respectively.
The Greek drama continues, but on Thursday last week, the EU's Olli Rehn was reported as saying the details of a deal were very close to being finalized.
Experts from the commission, the ECB and IMF are ready to finalize a three-year program expected to cost €120 billion ($160 billion) while Greece reforms its budgetary practices and its economy. The move to bail out Greece has seen its cost of borrowing to record highs; above 9%, almost twice the rate the EU will charge.
Usually, when the USD strengthens, the price of gold weakens and vice-a-versa. Yet last week, as the USD strengthened against nearly every other currency, index and commodity, gold prices firmed. As the USD strengthens we have seen U.S. Treasuries rally as worried investors pile into the "perceived" safety of bonds. But, I now get a sense that investors perception of the safety of these financial instruments is starting to change.
Last week, the GLD ETF added another big stack of gold bars to its holdings. This time it was 195,740 troy ounces. . .a bit over six tons. The SPDR Gold Trust holdings hit a new record of 1,159.002 tons as of April 29.
Technical Analysis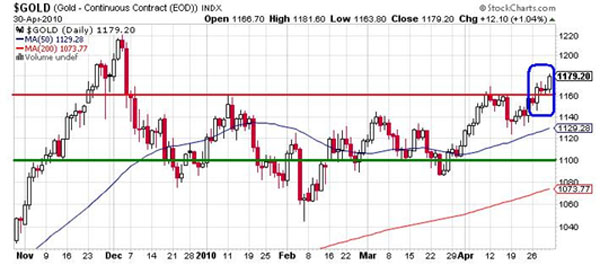 For weeks, gold has traded sideways in a consolidation pattern. However, last week we saw its price break through the key resistance level of $1,160. This suggests that the price has a strong upward bias and should make new highs shortly.