It's been an interesting week with Spain being downgraded as Europe debt crisis widens. This has investors looking at the USD in a new light thinking that maybe it's not that bad of an investment after all. This sent the USD higher along with the price of gold so far this week.
The past seven days we have seen both the USD and gold rise together, which is not something that happens often. With financial crisis's popping up around the world, I think the USD and gold will continue to strengthen (with corrections along the way). I think it will take another 12–24 months before another wave if issues arise in the financial markets and, until then, we just continue to focus mainly on buying the dips and corrections with the occasional short play in the larger corrections.
USD, Gold and SP500—Daily Performance Chart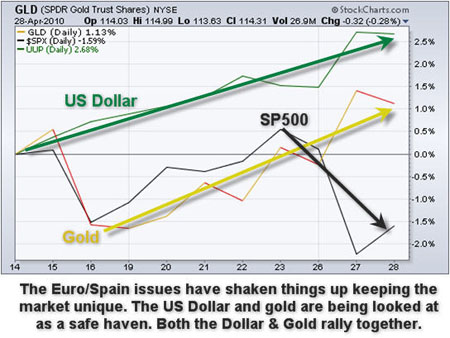 SP500—Daily Chart
On April 14th we saw an extreme level of selling, which sent the broad market sharply lower. This selloff was followed by value buyers pushing the prices back up to new 2010 highs.
Well this week we have seen the same extreme selling volume and the question we all want to know is: Will there be buyers this time around?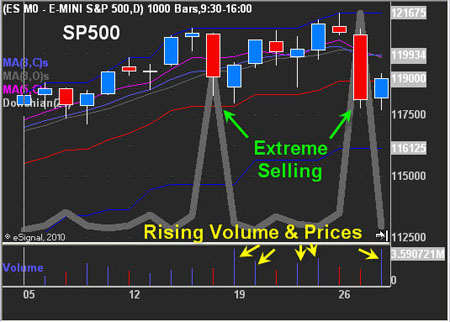 Trading Conclusion:
Gold is in a bull market but it was setup for another round of selling but this Spain issue has been a pain. If we had another downward word move on gold to the $1,115–$1,120 area it would have washed out the majority of gold bulls resetting it's self up for a big rally.
The Europe debt crisis has thrown a twist into the picture helping boost the price of gold. Gold could still head lower washing out the weak positions, but the picture is fuzzy. Silver did not react much to this news as it's not really seen as the safe haven gold or the USD are.
As for the stock market, it looks and feels like we are about to start a correction. But this week we saw fear in the market again with the VIX and selling volume surging higher to levels, which have triggered temporary bottoms in the past. The problem I see here is that some key price levels have been taken out, so the odds are pointing to lower prices in the near future. But Tuesdays panic selling has pushed the market into an oversold condition, so we should see a drift upward for 1–4 days before sellers get active again as they want to sell and short the market at premium prices.
In short, precious metals are not giving any clear price action to take advantage of yet. And the SP500 looks like it's on its last legs before heading lower for a meaningful correction, which should provide a short setup and then a nice long setup once it bottoms out.
If you would like to receive my ETF Trading Signals check out my website:
www.TheTechnicalTraders.com
.
Chris Vermeulen
Spain Is in Pain—USD and Gold Are Safe Havens