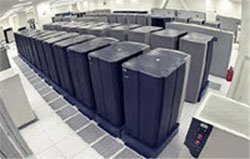 More than a dozen federal agencies, including the Energy, Justice, and Commerce departments, as well as the Navy,
are participating in a "green" IT program
that enables them to buy new data servers and receive carbon emissions credits to offset their carbon footprint, reports Government Computer News.
In January, President Obama ordered the government, the largest consumer of energy in the U.S., to
reduce its greenhouse gas emissions 28% by 2020
, which includes increasing energy efficiency.
Last year, federal agencies spent more than $1.7 billion last year on energy-efficiency projects, increasing their environmental spend by more than 80% from 2008.
The savings from the new program will be significant: cutting costs by $4.2 million over the next five years and nearly 24,000 metric tons of carbon dioxide (CO2). 3PAR, the programís sponsor, estimates that this is equivalent to keeping 4,500 vehicles off the road for a year or nearly 55,000 barrels of oil, according to the article.
The calculations include energy savings and carbon offsets purchased by 3PAR. As part of the program, 3PAR purchases one metric ton of CO2 offsets equivalent from
TerraPass
for every terabyte of storage purchased, which translates into 100% carbon neutral storage.
According to the U.S. Department of Energy,
data center energy consumption doubled from 2000 to 2006
, reaching more than 60 billion kilowatt hours per year, and that number could double again by 2011.