Canadian miner Stans Energy Corp. is carrying out grade and feasibility assessments at their Kutessay II deposit in Kyrgyzstan in the belief it could be the first major heavy Rare Earths deposit outside of China. For those of you, like me, who had to reach for the atlas to see exactly where Kyrgyzstan is, here is a map courtesy of worldatlas.com.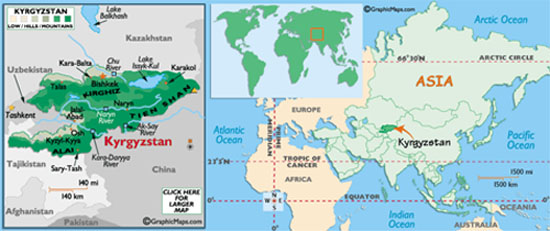 The name may be recently familiar from the news, the country went through a coup earlier this month when Former president Kurmanbek Bakiyev was deposed and thrown out of the country following bloody unrest wherein he is said to have authorized troops to open fire on protesters killing 83 people.
Located about 150 kms east of the capital Bishkek, the mine was extensively developed in the days when the country was part of the Soviet Union, according to an
Industrial Metals
article. The Soviets used the mine to supply their nuclear program and were running at a rate of 300,000 tons/yr. of ore at an average grade of 0.41%, equivalent to 750 tons/yr. of rare earth metal after recovery losses. Stans intends to raise production to 2,000 tons/yr., but this will require extensive replacement and upgrading of the processing facilities.
Rare earths tend to get lumped together as one ore source when in reality the term covers some 15 or so different metals whose value varies enormously. "Out of 15 rare earth elements, we estimate that there are 5 that you can make a lot of money on, 5 you break even on and 5 you have got to find a use for," Stans CEO Robert Mackay said. "The big ones everyone is looking for now are dysprosium and terbium and this deposit has some of the best grades of those two in the world in percentage terms," he said.
From being totally at the mercy of China just two years ago, it's encouraging to see how miners have identified and are actively working to develop rare earth deposits around the world. Higher prices for these metals, while not welcome to consumers, are ultimately what will make many of these deposits viable alternatives to China's dominance.