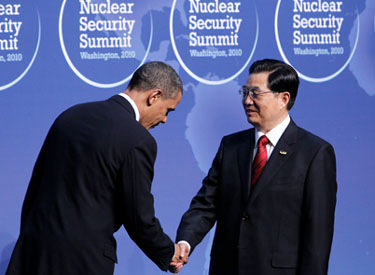 Chinese President Hu Jintao came to Washington earlier this month as part of the nuclear non-proliferation initiative and promptly announced that his country would not support further sanctions against Iran. This visit and his announcement predictably sent pundits into overdrive, discussing the entire spectrum of U.S.-China relations and the unavoidable symbiosis between the emerging superpower and the weakened but reigning one.
Strains in the ties are obvious. In addition to China's dealings with Iran, the two nations have clashed over the climate debacle in Copenhagen, China's refusal to revalue the yuan and U.S. arms sales to Taiwan. Western commentators' naiveté on these topics has been stunning, trending closer to fiction than reality. The fact is China will not commit economic suicide. This is made clear by another issue often overlooked by pundits the growing competition for energy.
While Western politicians remain consumed by climate change, carbon emissions, and the wishful thinking of wind and solar projects unlikely to play any substantial role for several decades, China is on the hunt. And they've been quite successful at bagging valuable oil and gas resources around the world, strengthening their energy security through a massive investment in the traditional energy reserves.
They search for good reason. From 2000 to 2009, China's crude oil consumption increased from 4.9 to almost 8 million barrels per day (bpd), with an average yearly increase of around 7%. This year, for the first time, China imported over 50% of its need and forecasts put its annual demand at 12 million bpd by 2020. To put this in context, U.S. consumption has stalled just shy of 20 million bpd, of which about two thirds is imported.
The day of Hu's visit to Washington, Chinese oil giant Sinopec paid ConocoPhillips $4.65 billion to acquire its share in a Canadian tar sands project
Soon, reality will alter America's energy posture. Once drilling off both U.S. coasts becomes commonplace, competition between China and the U.S. for the same world oil resources will evolve into the defining geopolitical challenge of at least the next two decades.