Just as the U.S. consumer is key for Chinese exporters, so too is the Chinese consumer key as an export destination for the rest of emerging Asia.
A research note this week from the Hong Kong-based brokerage CLSA Asia Markets spells out how important the Chinese consumer was in pulling its neighbors up and out of the Great Recession. Many of these countries have more than doubled their exports to China since the depths of the recession in late 2008 and early 2009. Exports from technology-oriented Taiwan to the mainland, for example, are up more than 160% from the bottom, while Singapore has boosted its exports to China by more than 120% and South Korea by nearly 100%.
Those are relative numbers—how important is China to its neighbors in absolute terms? Nearly 30% of Taiwan's total exports, accounting for 15% of its GDP, now go to the mainland. A quarter of South Korea's exports (10% of GDP) are China-bound. For both of these countries, and others as well, China is more than twice as important as the United States in terms of exports.
The visual below shows China's current account trend lines—sharply rising imports intersecting with a slightly flagging export sector.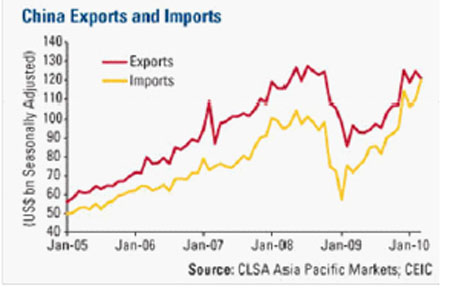 Now we're not ready to dust off the D-word—"decoupling"—quite yet, but the regional trend is clear and it appears sustainable if for no other reason than an ever-richer China as the market hub of a dynamic regional economy makes both geographic and demographic sense.
Rapidly rising incomes in China are making its consumers look more and more like those in the developed world. They want nice clothes and the latest high-tech gadgets, and their desire for more spacious homes outfitted with modern conveniences is a primary driver of the nation's housing market. Housing prices in Beijing and Shanghai may be getting a little ahead of themselves, but the government is taking prudent measures to slow things down in a measured and orderly fashion. The respected analysts at BCA Research see a frothy and vulnerable housing market, but they still say "Chinese consumer spending will remain robust."
Another point worth mentioning—Beijing and Shanghai may be China's most important cities, but the country and its economy is so much more, just as New York and Washington, D.C. don't represent the entire United States. The central government is clearly serious about spreading the wealth now concentrated on China's eastern coast deep into the nation's interior.
The inland provinces and cities present a vast growth opportunity, and to seize that opportunity, the government is moving forward with a long list of high-speed "bullet train" projects, regional airports, new power plants and other infrastructure. This is the spade work that must be done before a vibrant economy can grow and flourish.
Income levels drop off as you move inland in China, but there's a growing market in those areas for luxury goods. We pointed out a few weeks ago that high-end retailers like Gucci and Louis Vuitton are opening shops in the back country, which is a testament to increasing wealth levels.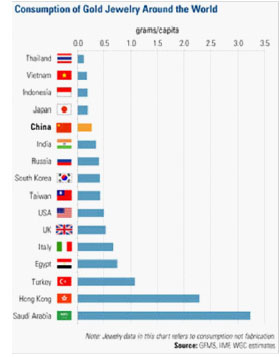 Along with luxury goods, Chinese citizens with rising incomes and accumulations of wealth are likely to become bigger consumers of gold. China has a centuries-long cultural attraction to gold, but affordability has been an obstacle. Even at today's high prices, the Chinese are in a good position to buy gold as jewelry or for investment purposes. They and other Asians (foremost Indians) see small price corrections as an opportunity to stock up.
The chart above shows where China stands on a per-capita basis among countries with a traditionally high affinity for gold. China's currently near the bottom of the list but the World Gold Council believes per-capita gold consumption by the Chinese could easily double in the next decade. This, obviously, would have a massive impact on the global supply-demand balance.
As part of our investment process, we examine intermarket relationships to try to determine whether or not we believe they are sustainable. In the case of the Chinese consumer, we not only believe he is here to stay, but also that he will grow in influence both regionally and globally in the years ahead.
For more insights from Frank Holmes and analysts at U.S. Global Investors, visit the firm's investment blog "Frank Talk" at www.usfunds.com.
All opinions expressed and data provided are subject to change without notice. Some of these opinions may not be appropriate to every investor.
The Six Key Drivers of Emerging Markets
Emerging markets are changing the way the world works by developing into global powerhouses. The latest edition of our "What's Driving?" series identifies the six key drivers and the effect they have on the economic vitality of emerging markets.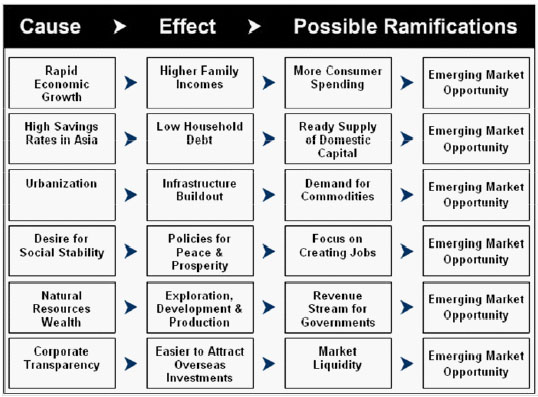 Rapid Economic Growth: In the coming years, growth in emerging economies is expected to outpace that of the developed world. This growth is fueling an increase in household income in places like China and India where nearly 60 million people—roughly the combined populations of Texas and California—are joining the ranks of the middle class each year.
High Savings Rates in Asia: Despite rising consumption, households in emerging Asia save 17% of disposable income—that's roughly four times what is saved in the U.S. and much higher than the developed world. These high savings rates allow them to meet the higher requirements for home ownership—many require at least 20% down—and have larger amounts of funds to invest in capital markets.
Urbanization: The world's urban population is growing by more than 70 million people each year. China already has over 100 cities with 1 million people and is expected to have over 200 of them by 2025. This urban migration has overwhelmed existing infrastructure like roads, sewers and electrical grids. The buildout of this critical infrastructure will require vast amounts of copper, steel and increase demand for all commodities.
Desire for Social Stability: One main goal of emerging market governments to remain in power is to keep the public happy. They are doing this by increasing personal freedoms for citizens and providing them with opportunities to increase their quality of life. Many governments have found the key to social stability is focusing on job creation which establishes a path of upward mobility for citizens.
Natural Resources Wealth: Many of today's most promising emerging nations sit atop some of the largest oil, metal and other valuable resource deposits in the world. Many of these nations have teamed up with private and/or foreign enterprises to bring these resources to market. Revenue generated through taxation and direct ownership allows for these governments to build infrastructure, create jobs and pursue other economic opportunities.
Corporate Transparency: A history of corruption and political turmoil has given way to higher standards of corporate governance in today's globalized world. Though still far from perfect, the improved transparency and oversight has made important information available to investors and reduced uncertainty. By aligning themselves with international business standards and requirements, emerging nations will attract more foreign capital and better integrate themselves into the global marketplace.
These six drivers have helped emerging economies weather the financial crisis and provided them with a blueprint for success as they continue to strive to build economic wealth.
Click to Lauch Interactive Presentation
Don't forget! Frank Holmes, Mark Skousen and the rest of the U.S. Global Investors Eastern Europe team will be hosting a special presentation on Thursday, April 29 titled
"What's Ahead in Emerging Europe?" Click to register for this free event
.