The euro was under much pressure last week as Greece concerns resurfaced. Eurostat revised the Greek deficit to 13.6 of GDP last year, up from 12.9% and nearly double the figure of 2008. Hours later, Moody's cut Greece's sovereign debt rating from A2 to A3, just four grades above junk, warning that the country would likely pay a high cost to stabilize its debt and could face a new downgrade. The euro tumbled to 1.3261 dollars, its lowest point in almost a year, before recovering slightly.
EU figures showed that public finances across Europe were in a dismal state after governments spent heavily to keep their economies afloat. The combined deficit for all 16 eurozone countries more than trebled in 2009 to 6.3% of GDP from 2.0% in 2008ómore than twice the level permitted under EU budget rules.
Ireland was the worst offender, with a deficit at 14.1%, followed by Greece, Spain on 11.1% and Portugal with 9.4%.
Wednesday, the IMF warned that the Greek crisis could spill over to other member states. "In the near term, the main risk is that, if unchecked, market concerns about sovereign liquidity and solvency in Greece could turn into a full-blown sovereign debt crisis, leading to some contagion," the IMF said.
Despite that bullion pays no income and, after storage costs, can be seen to have a negative yield, it has been one of the best asset classes of the last decade delivering much better returns than equities and financials.
Technical Analysis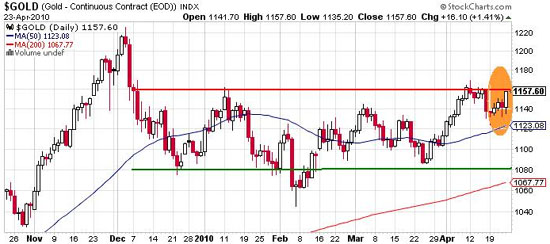 Even though gold remains range bound and stuck between US$1,080 and US$1,160, it ended last week on a very positive note. The primary upward trend still remains firmly intact, the medium indicators are turning positive and the close ended with a bullish engulfing pattern.