The elevated price of gold has gold miners and ETFs that cover them holding their shares salivating. If gold's price remains as high as it is now, deals and investments could shift the gold mining landscape for good.
These days, gold is trading above $1,100 an ounce compared with $350 in 2002. The euro is under pressure, thanks to the threat of a Greek default. Inflation is a concern and generally, investors are looking to diversify away from the dollar. All this has gold miners feeling optimistic about the future prospects for their metal.
It's not just the publicly owned companies, either.
The Economist
recently profiled some would-be gold prospectors who are trying their hand at finding the metal on their own.
The iron is hot right now, so gold miners are looking to strike by turning an eye to resource-rich Colombia. Gold mining companies will invest as much as $4.5 billion over the next 10 years in the nation, attracted by rich unexplored areas and soaring prices.
Diana Delgado for Reuters reports that
gold companies are expected to invest as much as $400 million in exploration and production this year alone, up from $300 million in 2009.
Joung Park for Morningstar clarifies
that investors who analyze gold mining companies should consider an important metric: the company's proven and probable gold reserves. The figure can determine a gold miner's ultimate earning power. Check out their chart to see how their analysis of 17 gold miners panned out.
Market Vectors Gold Miners (GDX)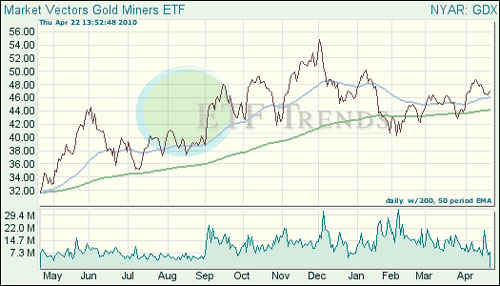 Market Vectors Junior Gold Miners (GDXJ)