Over the last 18 months, natural gas has fallen over 70% in price and is now close to its lows of the last eight years.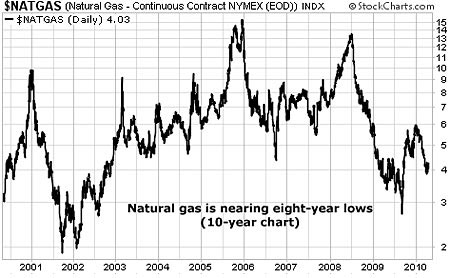 While nat gas prices are still at 2002 levels, crude oil prices have tripled. So nat gas also looks extremely cheap when compared to its most important competitor.
At today's prices, to generate 10m BTUs of energy using crude oil, you'd have to spend $148. To produce the same energy levels using nat gas, it would only cost $39. So in terms of energy content, oil is 3.8 times more expensive than natural gas.
So how do you invest in natural gas?
You can buy it directly with an ETF or invest in a company that produces natural gas. But utility companies that use nat gas to generate electricity are my personal favorite nat gas investments.
First of all, natural-gas-burning power companies are going to be busy for many years to come. Because gas is so cheap, this business makes perfect economic sense. And it makes political sense, too—it burns clean and it's American.
Second, this idea is much safer than "pure" natural gas investments like the nat gas ETF or the producers. Natural gas is one of the most volatile commodities in the market. By buying power producers, we benefit from natural gas' great investment thesis without having to put up with the incredible volatility.
And power utilities pay dividends. . .usually between 4% and 6%. By investing in natural gas power utilities, you're able to leverage the excellent investment case into a safe, high-income idea.
Natural gas has a powerful investment story right now. I consider Atlantic the safest, "high income" way to participate in the coming bull market.