Silver did make a little further progress following the last update, but the going was heavy as it battled resistance approaching its December and January highs, and the gains were incremental. With the Goldman Sachs bombshell on Friday, buyers vanished and the price plunged to initiate a probable reactive phase.
Silver had shown recent strength relative to gold, but is burdened with heavy overhanging supply approaching its highs, which gold of course isn't, so when things start looking rough players quickly head for the exits. This situation will only end when silver succeeds in breaking above its 2008 highs at about $21.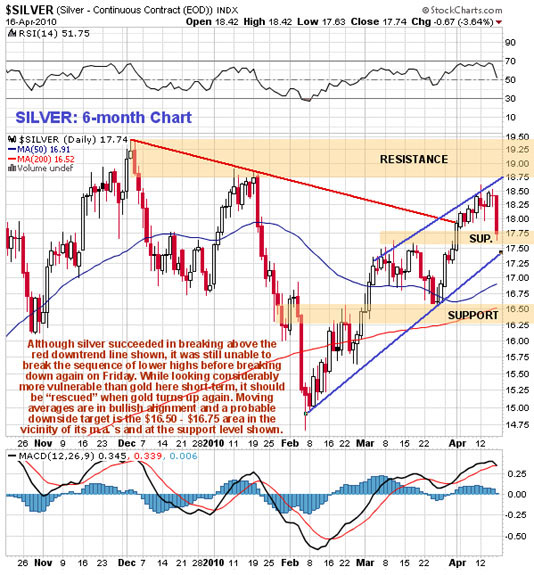 On its six-month chart we can see that although silver did succeed in breaking above the red downtrend line shown, it was still unable to break the run of lower highs by rising above its January highs, before caving in again, this time courtesy of the illustrious Goldman Sachs. This of course marks the start of a probable reactive phase, and although this chart certainly looks like a lot less inspiring than the one for gold, it is thought that silver is unlikely to react as far as many may expect, partly due to the fact that it is likely to be "rescued" by gold as it turns up again. A likely downside target therefore is the $16.50–$16.75 area near to its bullishly aligned moving averages and a support level. The short-term reaction scenarios for both gold and silver should synchronize with the fallout reaction anticipated in the broad market as a result of the impact of the Goldman Sachs scandal, as set out in the article on the site on this subject.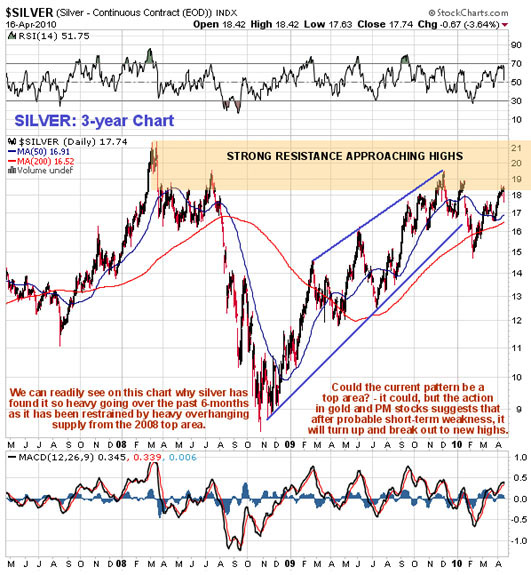 The three-year chart is interesting as it shows the origin of the resistance that has dogged silver for the past six months and prevented it from making any serious headway. This resistance arises from the trapped buyers in the $16–$21 area in the first half of 2008, who are trying to get out even. Once silver succeeds in absorbing all of this selling, it will then be free to break out to new highs and advance with much more vigor, as it will be unimpeded.