Although Comex Gold missed a bullish trigger point by a hair the other day and has since sold off by about 2%, we expect the loss to be easily recouped, and gold quotes to be bounding sharply higher, by next mid-week. Readers may recall that we recently projected a surge in June Gold to at least $1,245 once $1,171.80 was exceeded. A thorough explanation of the proprietary method we used to forecast this outcome, as well as
details concerning the upcoming Hidden Pivot Webinar
. Suffice it to say, on Monday, gold futures tiptoed to within an inch of our threshold, peaking at 1170.70. A further rally of $1.20 would have done the trick, but it was not to be; instead, the futures retreated without having exceeded the resistance peak shown in the chart below.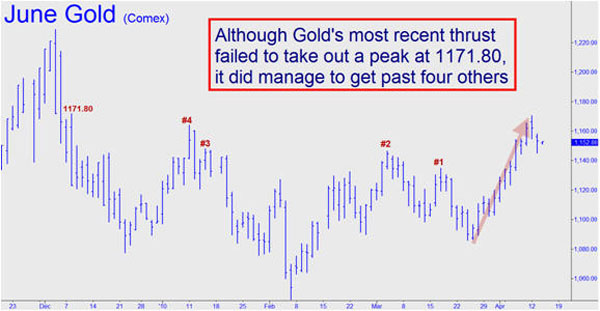 The resistance is what we refer to as a "look-to-the-left" peak. It is just obscure enough that not all chartists and traders, even diligent ones, will o notice it. But we surely do, as according to the Hidden Pivot Method, each discrete upthrust must surpass at least two prior peaks to re-energize the bull trend. Although the rally appears to have chickened out just shy of the "look-to-the-left" peak at $1,171.80, it did so after having surpassed no fewer than four other resistance peaks. We've labeled them in the chart and note that the peaks #3 and #4 are "external" highs whose breach implies more buying power than the breach of "internal" peaks #1 and #2.
What to Look for
In this context, we should think of gold's recent rally from 1086.10 to $1,170.70, not as a mild failure, but as promising success. Although that assumption would be challenged by a severe selloff, as long as the futures hold above 1118.40 (i.e., a 0.618 retracement of the most recent rally cycle), we'll stick with the assumption that a bullish surge to at least $1,245 is imminent. We would assume the rally to be under way following a "booster-stage" thrust of at least $21 from any low above $1,118.40.