The gold price Wednesday was circling $1,160 an ounce as a weaker U.S. dollar pushed gold prices higher.
Gold for June delivery was adding 40 cents to $1,153.80 an ounce at the Comex division of the New York Mercantile Exchange. The gold price Wednesday has traded as high as $1,162.80 and as low as $1,151. The U.S. Dollar Index was slipping 0.01% to $80.41. The spot gold price was rising over $4, according to Kitco's gold index.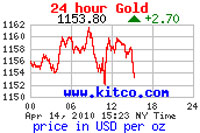 Gold prices today were turning to the U.S. dollar for direction. The currency was coming under pressure after the U.S. reported a wider-than-expected trade deficit. Blowout earnings from Intel (INTC) also boosted investors' risk appetite for commodities. The gold price was also finding support from the tragic China earthquake, which has killed 400 so far. Investors typically buy gold as a safe haven asset during times of global turmoil and natural disasters.
Gold prices have settled over the $1,150 resistance area for five consecutive trading session despite mild profit taking. Many analysts anticipate this momentum to continue and grow even stronger as prices make a run for the key psychological $1,200 level. "The momentum seems pretty strong," says Nicholas Brooks, head of research and investment strategy for ETF Securities. "A lot of it goes back to the dollar and to the euro. We've seen again a weakening of the dollar and that, I think, is helping push the god price up. But we're also seeing other metals go up as well. Palladium prices are now [at a] more than two-year high." Although gold is short of its $1,227 high in U.S. dollar terms, prices keep making new highs in the euro and sterling.