I suppose it's only fitting that the gold price may now be undergoing a major breakout from the "wedge pattern" of recent months—as it did last fall as indicated below—while former Fed chairman and master money printer Alan Greenspan testifies before the Financial Crisis Inquiry Commission (see this
item
from an hour or so ago for hearing info).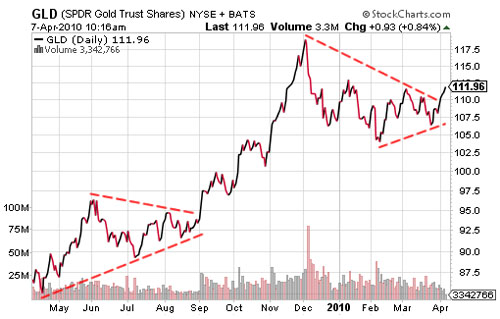 As this is written, he's arguing that there is no way he could have reined in the housing and credit bubble back before they met their respective pins because, first of all, the Federal Reserve is not a regulator. Secondly, had he tried to prick the bubble, he would have been sharply criticized by Congress, a body that was then basking in the glow of record levels of homeownership and growing "wealth" (however transient) amongst the electorate.
Isn't that the whole point of having an "independent" Federal Reserve? To do things that Congress and the White House may not like but, as was certainly true in this case, would have been better for the economy in the long run?