A 0.25% increase to India's bank rate last Friday coincided with a major reversal in the currency markets. The rupee closed out the day even against the USD which had reversed its recent slide and gained against most other currencies. Over the past year the rupee has strengthened steadily relative to the greenback, so Indians have seen about 10% chipped off the USD based gains for global goods through that period. Still, the current INR/USD exchange rate of 45 is only a recovery of about half the losses INR suffered when relative to the USD as the ratio moved from a sub 40/1 rate in early 2008 to 51/1 low a year ago.
The 25 basis points move by the Reserve Bank of India (RBI) on Friday brings its repo rate up to 5.0%. Prime rates for India's larger commercial banks generally range from 11.5 to 13%, and while this central bank move hadn't been expected before April, India's inflation rate near 10% was expected to boost commercial prime rates regardless of what the central bank did. Strong growth, and perhaps simply urban expansion that is putting cash into farmers hands in exchange for their land, is part of the inflation driver in India. However the inflation rate on food was running at over 16% in February due to the recent poor weather. Better harvests in the current season could ease inflationary pressure.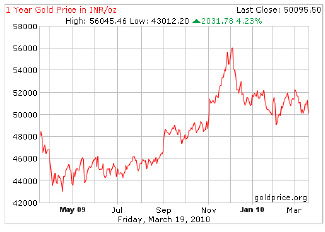 There is concern that tightening by the RBI signals India will join China in moves to dampen growth rates. While China may be worried about overheating, the concern in India does seem to be centered on inflation and the fact that its bank rate isn't reflecting it. India's inflation rate reflects gains for imported oil over the past 12 months as well as the one-off (hopefully) gains to domestic food costs. If resource prices stabilize at current levels, which seems likely given weak economies elsewhere, that would also help ease inflation. How does this impact the gold watch we have on India?
In India the
gold
price has moved from 48000 INR/oz a year ago to a peak of 56000 in early December, a gain of almost 17%, and now sits at about 50000 rupee/oz. Simply holding gold for the past year would have netted a 4% gain y/y in rupee terms. Given the combination of a post Crunch psychology followed by sharp gains for foodstuffs, the buyers strike in India's retail gold market last year is understandable.
It does not change the fact that Indian banks offer term deposits banked by deposited gold in amounts as small as 500 grams. The interest rates on these at 1% for a three year term is admittedly meager, but they do allow capital to be redeployed and are rather better than paying to store yellow metal holdings as happens elsewhere. We don't know when retail sentiment in India could shift back to a buying mood for the yellow metal, but if the rupee continues to strengthen on the back of interest rate gains the system is still firmly in place for it to do so. We continue to view shifts to India's retail trade as an important part of assessing gold's price moves. That of course won't re-price the sector's companies on its own.
To the bid for Underworld has been added another by Osisko (OSK-T) for Brett Resources (BRR-T) and its bulk tonnage gold resource in northwestern Ontario. OSK, the biggest junior on the planet and holding more cash than most mid tier companies in the space, is obviously intent on owning this deposit model that is causing an evolution away from high-grade veins in central Canada's historic gold belts. This is part of a forward looking movement to sort out how the sector can continue supplying at the +100 million oz per annum level as the large scale epithermal systems found mainly around the Pacific Rim are used up. There has been an emphasis on gold-copper porphyry systems that form at depth below the epithermal deposits, and which represent scale within a known quantity.
There is also a deposit class that is "transitional" between the epithermal deposits and the massive sulphide deposits that form on the seabed and typically are base metals rich. The very high-grade Eskay Creek deposit Barrick Gold is closing out in British Columbia after a very profitable run is one such (and the original Homestake Ridge zone of Bravo), but so too is the bulk tonnage Peñasquito mine that Goldcorp is opening in Mexico. The OSK-BRR focus is on deposits with a similar bulk scale but somewhat higher gold grade that makes them more of a pure metal play. While the "right choice" for the sector is really a series of deposit specific choices, we do expect some sorting by deposit type as larger companies focus on what they perceive as their best skill sets.
Related to this is the newly minted and London listed African Barrick Gold Plc that will run the four Barrick mines in Tanzania and presumably focus on growth on the continent. These have been the weak puppies in the Barrick portfolio on costs, but as importantly we think the parent simply sees little opening to acquire large scale deposits in parts of Africa it is comfortable with, and by inference of its preferred deposit types to maintain its number one spot on the gold producers list. This move also creates a new mid tier gold company that can deal with some of the midsized deposits being drilled off on either side of Africa. That is a good thing.
To listen to Eric Coffin and David Coffin's latest interview on
Korelin Economics Radio,
please go to:
http://www.kereport.com/weekendshow/weekendr-apr0310-seg5.html
[April 3, 2010]
Gain access to potential gains of hundreds or even thousands of percent! HRA initiated coverage on 8 new companies in 2009. So far, the average gain on those companies is over 250%! For more information about HRA Advisories, please visit:
www.hraadvisories.com
.
The HRA –
Journal, HRA-Dispatch
and
HRA- Special Delivery
are independent publications produced and distributed by Stockwork Consulting Ltd, which is committed to providing timely and factual analysis of junior mining, resource, and other venture capital companies. Companies are chosen on the basis of a speculative potential for significant upside gains resulting from asset-base expansion. These are generally high-risk securities, and opinions contained herein are time and market sensitive. No statement or expression of opinion, or any other matter herein, directly or indirectly, is an offer, solicitation or recommendation to buy or sell any securities mentioned. While we believe all sources of information to be factual and reliable we in no way represent or guarantee the accuracy thereof, nor of the statements made herein. We do not receive or request compensation in any form in order to feature companies in these publications. We may, or may not, own securities and/or options to acquire securities of the companies mentioned herein. This document is protected by the copyright laws of Canada and the U.S. and may not be reproduced in any form for other than for personal use without the prior written consent of the publisher. This document may be quoted, in context, provided proper credit is given.
©2009 Stockwork Consulting Ltd. All Rights Reserved.
Published by Stockwork Consulting Ltd.
Box 85909, Phoenix AZ , 85071 Toll Free 1-877-528-3958
[email protected]
http://www.hraadvisory.com