It looks like we have just stepped off the train before it starts to leave the station—in other words it looks like last week's update was DEAD WRONG. While there were sound reasons for being cautious, such as non-confirmation and the overbought condition of the stock market, last week's action in the PM sector has greatly increased the chances that it is going to break higher and embark on a strong advance anyway. Silver has underperformed gold until recently but over the past week or two that changed dramatically with a particularly sharp rise in silver. Before going any further please note that many of the arguments applied to gold and the PM sector in general in the
Gold Market Update
are equally applicable to silver.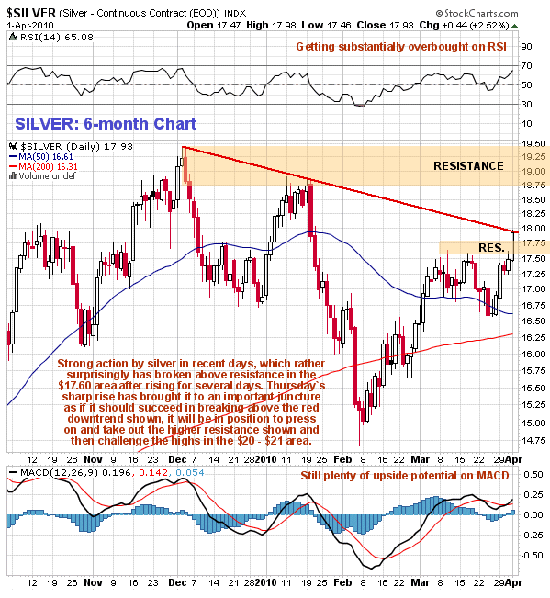 Until recently the silver chart looked weak, with it staging one of its typical plunges in January and early February, after which it gradually recovered through early March when it got bogged down beneath resistance and looked like it was topping out again. Then, after dropping away towards its 200-day moving average, a rather remarkable thing happened–with a bearish moving average cross threatening it suddenly turned and rose sharply over the past 5 sessions, even punching through the significant resistance in the $17.50-$17.75 area at the early and mid-March highs with barely a pause, to arrive at an important juncture at the red downtrend line shown on our 6-month chart. This is an important trendline because if it can break above it there is a good chance that it will run at the stronger resistance shown on the chart above $18.75, and thus end the run of lower highs which have plagued it since the start of the year, and if gold should take off strongly higher at the same time, then silver would then be well placed to have a crack at taking out this higher resistance level and advancing to challenge its highs in the $20-$21 area.
The impressive action of the past week or so will soon result in silver's moving averages swinging into bullish alignment. The fall of the red downtrend line should lead to an advance to the next resistance level. We should expect brief pauses however to alleviate the short-term overbought condition, and we should keep in mind that silver's performance in coming weeks will depend to a great extent on what happens to gold, whose fortunes will be dependent on the course of the dollar and other factors discussed in the
Gold Market update.
As we likely got off the train at exactly the wrong time a week ago, seemingly just before it leaves the station, and we got the first jolt of movement on Thursday, we are clearly in an awkward situation with regards to reboarding it, which may have to be done in a hasty and rather undignified manner. Readers who concur with the views expressed here should take the action appropriate to their individual situation, which will depend in part on the extent to which you heeded what was written in the last update.