The world's money has lost almost 75% of its value against gold in the last 10 years. . .
SAID IT BEFORE, but we'll say it again.
The bull market in
gold
starting 10 years ago is about much more than the dollar—a fact that investors and savers worldwide might want to consider in 2010 if the U.S. currency continues to rally.
Given G7 interest rates averaging 0.4% too (
Reuters
' data), gold looks likely to keep drawing strong bids worldwide.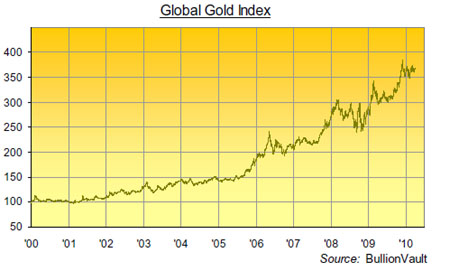 BullionVault
's Global Gold Index tracks the price of gold against the world's top 10 currencies.
Weighted by each issuing state's GDP, its 2010 make-up is based on the latest IMF forecasts. Meaning that the basket is led, as always, by the U.S. dollar (32%), with the Euro (27%) in second place. Behind that, China (12%) overtakes Japan (11%, down from 18% a decade ago) for the first time this year.
The GGI then includes the price of gold in British Pounds (5%), Russian Roubles (3%), Brazilian Real (3%), Canadian dollars (3%), Indian Rupees (3%) and finally Mexico Pesos (2%). . .thus covering well over two-thirds of the global economy and more than half its population.
Its value? Think of the GGI as gold minus the noise. The index is significantly less volatile on a daily basis than the
gold price
in dollars, Euros or Sterling alone. It shows you what's happening to the price of metal overall—rather like you might track the dollar Index to see how the greenback's doing—instead of focusing solely on one single pairing.
And it's telling us. . .?
The GGI outperformed global equities in Q1, rising 4.28% from the close of 2009. The MSCI Barra World Index (local prices) added 4.16%.
The index has yet to fall for two consecutive quarters since the start of 2000.
To date, the GGI shows the world's money en masse shedding very nearly three-quarters of its value in gold since the start of 2000.
Our guess here at
BullionVault
is that this loss of purchasing power in cash and bank-savings worldwide would require strong, positive real rates of interest—after inflation—to reverse it.
Our second guess? There's fat chance of that worldwide anytime soon.
Adrian Ash
BullionVault
Gold price chart, no delay
|
Buy gold online at live prices
Formerly City correspondent for The Daily Reckoning in London and head of editorial at the UK's leading financial advisory for private investors, Adrian Ash is the editor of Gold News and head of research at BullionVault—winner of the Queen's Award for Enterprise Innovation, 2009—where you can buy gold today vaulted in Zurich on $3 spreads and 0.8% dealing fees.
(c)
BullionVault
2010
Please Note:
This article is to inform your thinking, not lead it. Only you can decide the best place for your money, and any decision you make will put your money at risk. Information or data included here may have already been overtaken by events—and must be verified elsewhere—should you choose to act on it.