Almost one year ago (May 14 to be exact), we posed the question: "
Will Congress Put a Stop to China Currency Manipulation?
" The answer then, a resounding no as a currency-manipulation bill died a fast death. But that was then. Now, the "China Manipulates its Currency" political agenda has some new life. And some of that new life has come, quite frankly, from people like me (a former ardent free trader) who decided to pour over the data. A year ago, we published the RMB-USD exchange rates from 1981 to the present. And though back then, we asked readers to form their own conclusions, the evidence has convinced me that the currency has been manipulated. So, we did some investigations of our own to look at just one portion of the metals market,
steel imports and exports
. Shockingly (or perhaps not, depending on where you sit) the US currently has a $6.3b trade deficit with the rest of the world. We also reminded readers that the domestic steel industry operated with an average 65% capacity utilization last year. Here are the trade numbers again for review: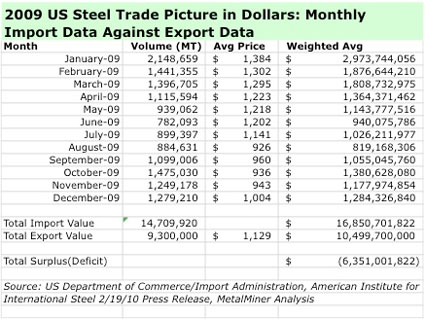 So what is new now in 2010? Two fascinating bits of information;
first China ran
an $8b trade deficit this month (this hasn't happened since April of 2004) according to Gordon Chang who wrote the affectionately titled book "The Coming Collapse of China." Second, Chang suggests a new movement in support of forcing China to revalue its currency appears to have taken hold (Chang quotes Paul Krugman who suggests a 25% surcharge on Chinese imports would make sense without a more freely floating currency). But MetalMiner readers know Krugman wasn't the first person to suggest such a solutionóWarren Buffett first proposed such a policy way back in 1999.
This time around, a bill in Congress just
may see the light of day
and move to a full floor vote by the end of May. The bill would place anti-dumping duties on products coming from countries that don't act to realign their currencies.
How likely will China continue running a deficit? Chang doesn't think too long because "Chinese officials think exports will recover this year." And, as he cleverly puts things, "Beijing it appears, is manufacturing a trade deficit."