As usual, when the gold price languishes for a while, it tends to get bashed by those who don't understand it and think that, surely, after ten years and a 300+ percent gain, there can't be even higher prices in store. But, as shown below in the
Kitco Gold Index
, that feeling is a distinctly American one recently as new highs in terms of other currencies were seen as recently as two weeks ago.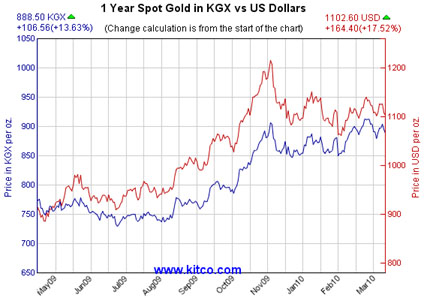 The two curves in the graphic are the gold price denominated in U.S. dollars (red) and the price in terms of the U.S. Dollar Index (blue) which, for those of you who need a refresher, consists of about two-thirds the euro with smaller weightings for the Japanese yen, British pound, Canadian dollar, and a few other currencies.
The potentially
very
good news for American gold investors is that there appears to be a nice little "wedge" pattern developing over the last few months and these formations usually result in a big move up or down when they're complete.