Gold sold off aggressively on Friday, closing at $1,107.40/oz in New York, showing a loss of 1.8% on the day. However, it was still up 0.54% on the week which is important from a technical perspective. Gold traded nearly flat this morning in Asian trading and is currently trading at $1,104.70/oz and €816.48/oz & £736.37/oz in euro and GBP terms, respectively.
Friday's fall was likely due to the dollar strength and increasing concerns about whether the EU can resolve the Greek economic crisis. Increasing tensions between eurozone partners about how to resolve the crisis is making markets nervous and leading to a selloff in the euro. Gold's higher weekly close will embolden the technical and momentum traders.
Support is at $1,100/oz and a close below that level could see gold under liquidation pressure and see falls back to support at $1,090/oz and potentially to strong support at $1,060/oz.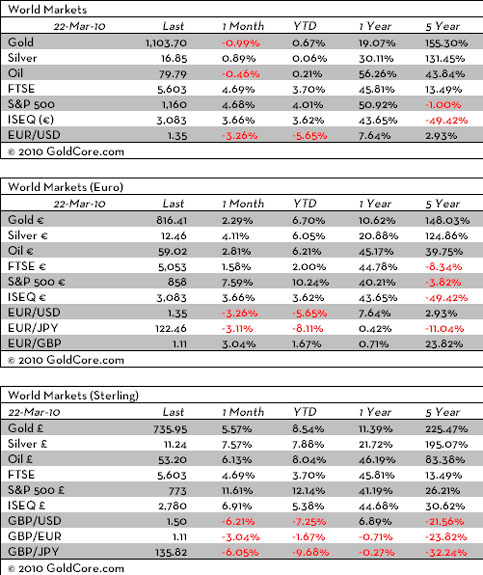 Silver:
Silver closed at $17.00/oz on Friday, remaining unchanged on the week. Silver is trading at $16.86/oz, €12.46/oz and £11.24/oz at the moment.
Platinum Group Metals:
Platinum is trading at $1,581/oz, palladium at $458/oz and rhodium at $2425/oz.