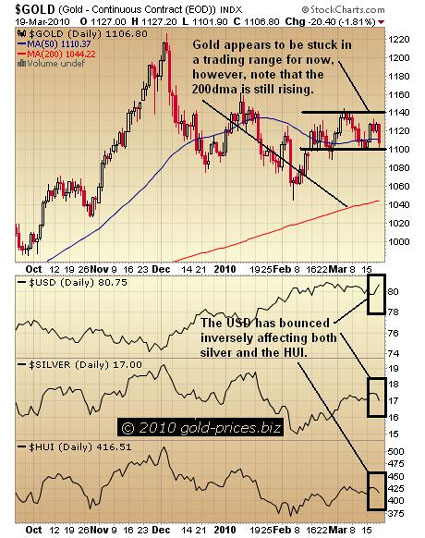 The above chart shows that gold prices appear to be stuck in a trading range for now and may continue to trade sideways until we see some resolution to the European Fiasco. The long-term trend is still up, so we must learn to expect these knocks along the way. Shortly after gold had risen above the $600/oz level (many moons ago) we wrote that you would never see $600/oz gold again and the detractors fired in the brick bats accordingly, well it won't be too long before $1,100/oz is history too.
We are confident that gold prices are headed higher and will finish the year at higher levels than they are today.
Back to the chart, please note that the 200dma is still rising and closing the gap between with gold prices which will support gold prices and we see it as being very positive for gold.
The USD has bounced and we note the inverse reaction by both silver and the HUI which have turned down sharply. Various programmed 'stops' have been triggered by the fall in gold prices which added to the selling pressure on Friday, however, by the end of the trading session gold prices were stabilizing.
Well fast forwarding to today all eyes will be focused on President Obama's health care reform bill and how the market reacts to it. We understand that there are last minute changes being undertaken such as abortions will not be allowed on the state, but we will need to see the final draft, if and when it is passed.
Also look out for Thursday, when the European Union meets as we may get some indication as to just what they propose to do about the Greek problem.