As reported by U.S. Global Investors, the latest Chinese inflation figures surpassed the one-year deposit rate of 2.25%. Negative real interest rates may provide an additional incentive to drive asset prices higher, increasing the likelihood of the Chinese central bank raising interest rates from a five-year low.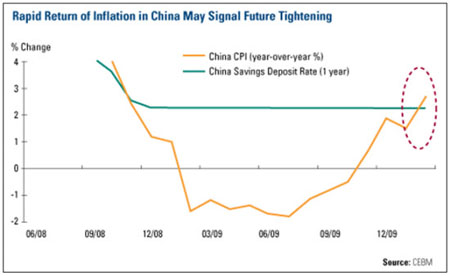 Fears of further monetary tightening in China have recently been weighing on the Chinese stock market. Of all the bourses, the Shanghai Composite Index (3,046 at time of writing) is the only one trading below its 200-day moving average (3,059), albeit after yesterday's good performance by only 13 points. Clawing back to above this key line and breaking its high of March 4 (3,097) would be bullish signs. However, the 2,935 February low must hold for the cyclical bull market to remain intact.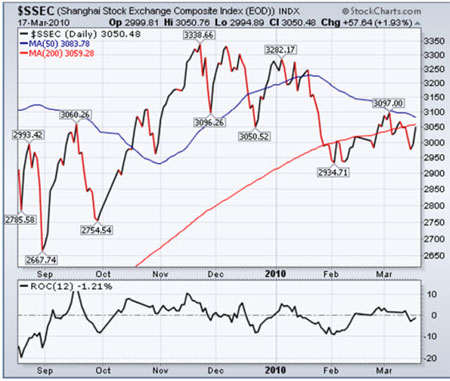 The Chinese stock market was the first to turn the corner after the credit crisis selloff—a full five months before the majority of indices bottomed in March 2009—and is being watched closely to ascertain whether this market would be the first to spell danger for global stocks (i.e., the proverbial canary in the coalmine).
No reason to be overly concerned yet, argues David Fuller of Fullermoney:
"People fear China's credit tightening might trigger another significant sell-off in world markets. China's monetary policy authorities need to get the balance right if they are to stem property speculation without overkill. This can be a fine balance but they have every incentive to succeed and their gradualist (baby-steps) approach to monetary policy tightening seems prudent. They will make some mistakes, like everyone else, but this is a medium-term risk and should have little effect on China's long-term potential. . .global stock markets have recently shown more evidence of a melt-up than a meltdown. Investors are climbing the "wall of worry." I will worry more when they sound euphoric."