At yesterday's top, the Dow Industrial Average was a mere 239 points shy of equaling the six-month bear rally that followed the 1929 Crash. The blue chip average peaked at 10694 on Tuesday, but it will need to hit 10933 to equal the fervently delusional 77% retracement of the Great Crash. At the rate the Dow has been climbing, it could be there by week's end or early next. We can
identify one spot
between here and 10933 where a short would enjoy favorable odds, but the gambit demands a tight stop-loss.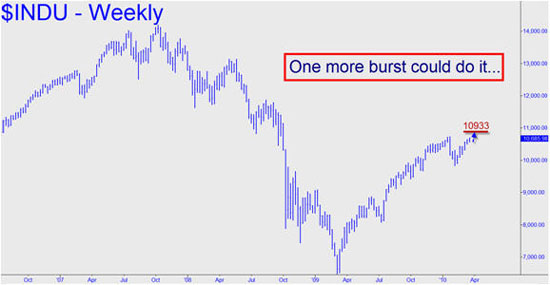 These numbers are all we've got to measure the tidal surge of euphoria that washed over investors once a financial shock of unprecedented magnitude had been fully absorbed. Those who bought into the rally and stuck with it were proven to have been fools; for the stock market would eventually lose 90% of its value. If this scenario were to repeat, it would imply a bottom for the Dow at 1420, representing a collapse of nearly 87% from current levels. Obviously, many of today's investors are not reflecting on the lessons of history. The bear rally topped in April 1930, which should give pause to those counting on springtime to fill investors' hearts with song. Given the parlous state of the economy, which remains frozen despite a steroid-induced spike in GDP, it should be prayer on the lips of investors, not song.
In retrospect, it's hard to believe investors could have worked themselves into a bullish tizzy in 1930. Then as now, it was mainly the House of Morgan that prospered in the surreal interlude between crash and false spring. Some today are convinced that the stock market rally, now in its 13th month, is the real McCoy.