Buyers of platinum, palladium and rhodium have a particularly complicated job of tracking and projecting price movements due to the diverse range of variables that impact the cost of these metals—particularly platinum and palladium. With South Africa home to 78% of the world's supply of platinum and 86% of the world's supply of rhodium (it "only" controls 35% of the world's supply of palladium), issue such as mine safety can have an enormous impact on the market.
The Wall Street Journal
recently reported the production declines of South Africa's largest mining firms from suspended operations due to safety concerns. The following chart shows the mine safety trends for the South African mining firms: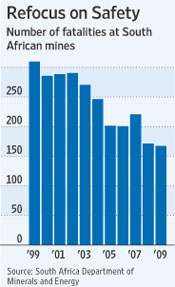 And though 2009 appears on par with 2008 levels, miners have concerns that the rules for work stoppages appear vague and unclear and have urged the government to generate new more explicit guidelines governing work stoppages. But safety concerns represent only one of about eight variables that impact precious metal pricing on the "supply side." Our
Platinum, Palladium and Rhodium Price Predictions 2010 report
provides an in-depth look at the 15 or so variables that we believe impact platinum, palladium and rhodium prices.
Meanwhile, prices for platinum and palladium have increased since the beginning of the year though the 30-day charts look a bit different between the two metals: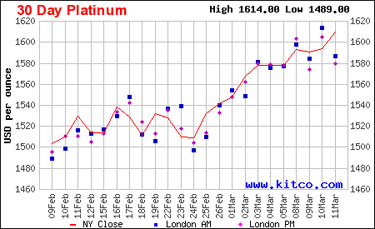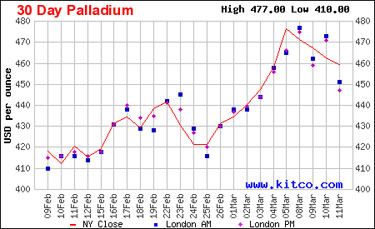 Much of the rise in platinum prices this year however, does not relate to mine safety issues but rather total gross dollar inflows into ETFs and specifically, dollar inflows into the newest fund set up in New York. The funds
only hold 1,392 tons of platinum
or less than eight weeks of global demand, according to Mineweb but the dollar flows of $400m into all funds and $250m into the newest NY fund have driven up prices.