The market is looking up for onshore oil and gas operators both in North America and Europe. In the US, the pace of recovery has caught many insiders by surprise. Over the last four months the U.S. land rig count has increased more rapidly on an absolute basis than in any other four-month period over the past decade according to the latest
RigZone Review
. Furthermore, the rig count has only posted weekly decreases four times in the 37 weeks, as this chart illustrates: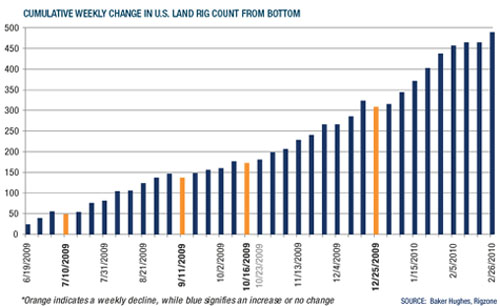 The rig count rise is impressive and the recovery is developing in a V-shaped pattern. Since the bottom, the industry has added an average of 13 rigs per week, and the best one-week gain came in late-December when 38 rigs went back to work. According to data quoted by RigZone, there were 1,313 land rigs working in the U.S. as of late-February, which is 60% above the June 2009 bottom but still 32% below the August 2008 peak.
The rig construction market is expected to continue to increase as contractors shift towards use of more sophisticated rigs capable of drilling horizontally into shale gas beds. In fact it isnít just shale gas that is prompting this migration to high spec rigs, according to a
Mineweb
article, the industry is moving towards multipurpose rigs that can meet a variety of roles, such as geo-technical and subsurface investigation, geothermal and wire-line coring in addition to the most sophisticated fracking drill techniques needed for gas shale. Rig operators with multipurpose rigs find they have a higher capacity utilization rate because they can be turned to any one of a growing range of drill work required.
Meanwhile rig builders and operators are turning their eyes to Europe where oil and gas companies have invested heavily in American drill firms. Europe has extensive onshore gas shale deposits and energy companies are keen to develop opportunities in a market overly dependent on Russian natural gas.