Soros has been investing heavily in the U.S.-listed ETF GLD, of which he now owns over 6 million shares worth around $680 million.
Why Is He Investing in Gold?
Recent events involving big currencies have led to the gold price gaining momentum. Gold has been lingering around $1,100–$1,200 for quite some time. What could cause a gold rally from here?
Weaker Fiat Currencies Look to Cause the Next Gold Rally
In Europe, relations have worsened between Germany and Greece. Greece has been trudging up Germany's World War II Nazi plundering of Greek resources, whilst the Germans are claiming the Greeks conned their way into the euro.
A likely rescue package may have been severely damaged by these rather crude confrontations.
With George Soros being at the center of a
hedge against the euro
and Spain, Portugal and Ireland all in the queue for bailout money, the euro looks to be severely tested in the coming year.
MoneyWeek reports:
Further falls for the euro are on the cards. Morgan Stanley sees it sliding to $1.28, from around $1.35 now, over the next few months.
The UK is faring no better, with a budget shortfall of almost 13% of GDP—right up there with the Greeks and Spaniards in terms of budget deficit.
Mervyn King, the Bank of England governor, stated last week that the bank may need to resume its QE program. The diluting of fiat currencies by printing money is never a good thing for the strength of the nation's currency.
What About the dollar?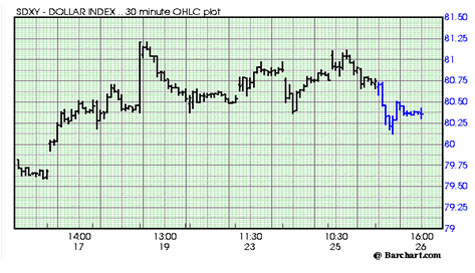 The dollar has long been the safe play when markets are turbulent. Indeed, we saw a short rally last week (up to the 19th of February). But the overall impetus is on a downward trend for the dollar.
This fact is supported by the Chinese hedging against the dollar of late and Ben Bernanke stating on Thursday that it's unlikely that U.S. interest rates will rise anytime soon.
So Could Gold Be Set to Surge?
With investors opting for security, the gold price is in an ideal position to capitalize on the fears and weaknesses of fiat currencies.