The technical evidence was subtle, but gold appeared to have its best day in months on Thursday. The night before, we had told subscribers to brace for a new wave of selling that would bring the April Comex contract down to at least $1,073, exactly $23 below the previous day's settlement price. When the dust settled, however, the futures had fallen no lower than $1,088—off a mere $8 from the previous day's close. Moreover, the reversal from the day's lows was swift and decisive, leaving April Gold at $1,108 by day's end, $20 off the lows. Most encouraging of all, however, was that the bounce came precisely from a "Hidden Pivot midpoint," and that it ultimately blew past two resistance peaks on the hourly chart without pausing for breath. Taken together, these telling technical signs offer the most encouraging evidence of bullion's resurgence that we've seen since Comex gold reached a record-high $1,227.50 on December 3.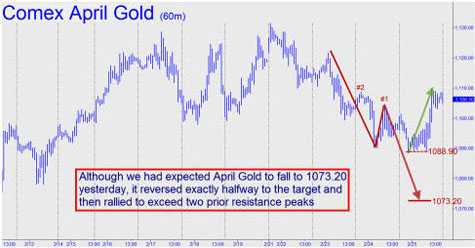 The chart shows why we have turned optimistic after 10 weeks of carefully calculated skepticism. The red line tracks the price movement we had expected yesterday—a nasty selloff to at least $1,073.20. Instead, the futures got exactly halfway to the target and then reversed sharply (green line). When the rally subsequently exceeded two prior peaks on the hourly chart without a pullback, it showed it was not just a feint higher, but the beginning of a strong new trend.
According to the Hidden Pivot method, this is exactly what should occur when a corrective cycle ends. This correction began on December 3 from within four ticks of a $1,227.50 target that
we had projected
several weeks ahead of the turn. The correction until yesterday had traced out ABCD patterns that either reached or exceeded their D targets. However, this most recent ABCD downtrend failed to reach 'D,' reversing exactly halfway to the target. That is precisely what we expect a correction to do when the dominant trend is about to resume. We should like to see this pattern repeated fractally in minor timeframes for the next couple days before we sound the all-clear.