We've been talking up the financials for a good long time, and now that a general pullback in the markets is upon us, I've been hearing from many of you that it's time to bail out, take profits and look for new sector rotation possibilities.
Frankly, I don't see it that way.
It could be that by the time we've had our scare here, the financials will have fallen somewhat from where they're currently perched, along with the rest of the broad market. Our feeling is that the possibility of such an outcome is remote, and even if it did occur, it would only be followed by a 'V' shaped bottom and subsequent spike that would be nearly impossible to time.
To sum up, if we bailed here, the only thing we'd accomplish would be to lose our position. The market would likely be higher than our selling price before our nerves had a chance to calm, and we'd be flustered trying to find a good (and likely much higher) re-entry point.
That is not a prospect we relish.
A recent Merrill Lynch (LGL 4.12 ↑0.24%) research piece actually addressed this issue, and found that a programmatic sell strategy on panic down days with a buyback after 20 days (when the panic subsided) led to significantly diminished returns over time. Take a look: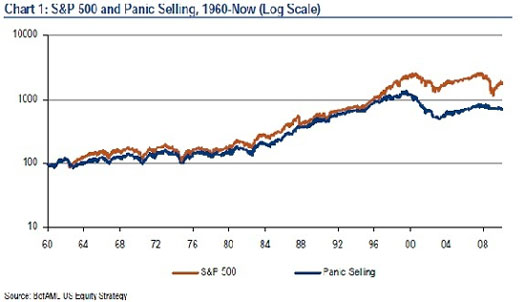 The reason for the underperformance is rather straightforward. Big down days
and big up days
occur very close to one another. The lesson: if you're out on the downside you also miss the gains.
But isn't something big happening out there?
The more likely scenario at this point is that the market will
run away from us
on the upside, faster and earlier than anyone expects, and before most have a chance to get on board in a meaningful way. It is for that very reason that we are urging subscribers to let the shakeout rattle the nervous. We'll sit tight, mind our knitting, collect our dividends and various other income streams, and let it all pass.
I can appreciate the nervousness, though. There's no shortage of messianic money-mumbling about China and Greece and Spain these days, not to mention a potential war between Iran and Israel, all making it increasingly difficult to be confident about the market's current direction.
With that in mind, we thought it best to take a very brief recon of the current situation.
Let's start with the S&P 500: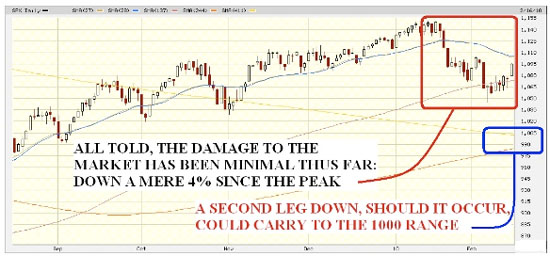 Not much has happened in the realm of the broad markets. A 4% drop is hardly worth mentioning. Yet look at this: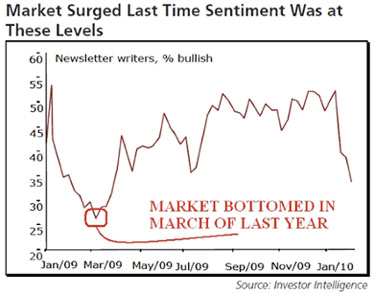 This chart is telling. Newsletter writers like "the old Matt McAbby" are collectively used by many as a contrarian timing device. When they get overly bearish, as they are now, the market is typically poised to rally. This is precisely what happened last spring, when, as the chart shows, the investment publishing business cried 'uncle' and said 'sell'. From there on out it was all bullish.
We find ourselves in a similar position now. Advisors are more bearish today than any time since March, when the bottoms were put in. That's not to say an upside spike is imminent. Sentiment could get more bearish from here. In our view, a titanically worrisome plunge that carries the S&P down to major support in the 1000 range would be the worst case scenario.
Yuan a Buck?
Understanding the current situation involves appreciating that the U.S. and China are locked in a duel
cum
tango
cum
economic kung fu head squisher that looks to continue for years to come. We keep a close eye on the Chinese front because every move of the People's Economic Steering Junta is a meaningful one. The Chinese have twice tightened the reins on credit to fend off a bubble in the housing sector recently and are threatening now to pull the cord on a Yuan revaluation.
Many are speculating they will do it, but just how this would serve long-term Chinese financial interests remains a mystery to this reporter.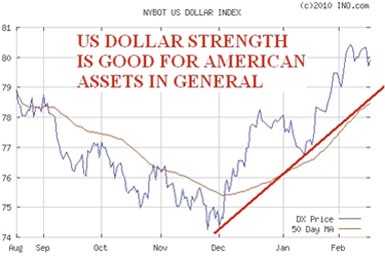 The Chinese currency is now pegged to the dollar, and any revaluation would only make it less competitive against the Buck and Euro, with whom China does a massive export business. In our view, the move would be an outright invitation to Europe and America to take their Chinese import business elsewhere, particularly on the margins, where other cheap manufacturing nations stand ready to steal the trade.
Particularly now, the move seem unlikely: in the wake of a falling Euro whose stopper just got pulled by the Greeks, and coupled with their recent rate hikes, the pressure on the Chinese currency is already upward. Allowing it to float yet higher at this stage seems would seem to be an odd move, to put it mildly.
Greece the Wheels of that Euro Engine
The result of the Greek panic is that America has become the recipient of a boatload of money fleeing the Eurozone of late. In our view the nail-biting has been overdone. Look for a combination of unpopular Greek government austerity measures coupled with a pan-European effort to plug the Aegean drain—a duo that should keep the U.S. dollar buoyant well into the third quarter and end this non-crisis in short order.
Our Trade
News of bombs exploding outside the offices of J.P. Morgan's Athenian offices are nothing to laugh about—but they do offer the cynics a chance to proffer that old line about buying when there's blood in the streets.
And we are buyers. The company we like is
Aegean Marine Petroleum Network (ANW 29.9 ↓3.11%) (NYSE:ANW)
a supplier to the shipping industry of marine fuel and lubricants. The company is a pure play on continued strength in crude as well as a Hollywood end to the non-problem of Greek sovereign debt repayments. It also plays well with the ongoing global recovery that we see filling the casks in 2010. Look here: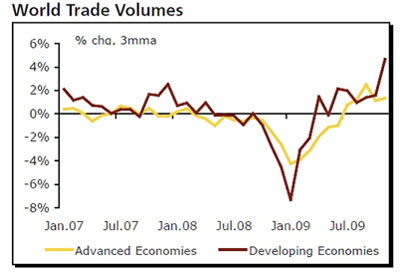 The whole world is doing a brisker business today than at any time in the last three years. That means more shipping and more shipping fuel.
Aegean Marine stock is up 86% in the last year and 45% in the last six months. But it has taken a hit along with everything that smells even slightly of Ouzo lately.
Here is her chart for the last 12 months: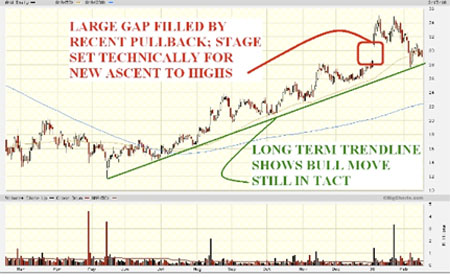 We're going to write options on this one.
ANW stock sells for $29.19 and the March 30 Calls sell for $1.70. You buy the shares and sell the calls and your up-front take on the premium is 5.8%. Should the shares get called away, you'll pull in another $0.81 on the trade, for a total return of 8.6% in four weeks time.
Bourbon and Bayonets recommends keeping a watchful investor eye on ANW.
And sail like a shipping magnate.
Matt McAbby
Greek Tragedy Goes Hollywood