Last week was strong with stocks and commodities moving up sharply. As nice as it was to see a rally, I still have my doubts whether this move has legs behind it. As prices moved higher throughout the week we saw volume become thinner and thinner.
Basic technical analysis of the recent price action, when looking at the hourly charts is pointing to a sharp pullback. The indexes, gold and silver have both rallied (drifted) higher on declining volume as they near resistance.
Let's Take a Quick Look at the U.S. Dollar and Gold Charts
The USD has been in a strong rally since the last week of December. The once easy money trade (short the USD) has been over for a couple of months but it may be another good trade if gold is rejected here at the 50% retracement level.
The next month or so will be interesting to see whether the USD will continue to rally or drop like a rock as traders sell dollars for another easy short trade. There is not much we can do here other than wait for a setup on the daily and hourly charts to form.
U.S. Dollar – Weekly Chart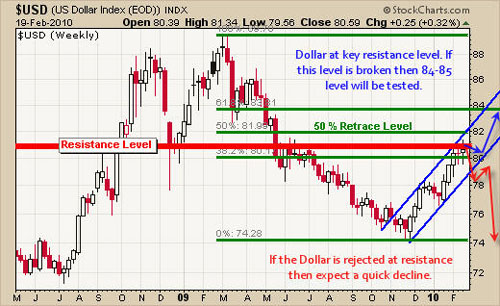 GLD – Gold Daily Chart
Gold still looks very bullish. Actually, the more gold pulls back the more I like the chart. This daily chart shows a very nice bull flag. The price is currently testing the upper trend channel line and this is what makes me think we are going to see a pop in gold prices or a sharp drop.
I would like to see gold pullback one more time and make a new multi-week low before heading higher. We did see extreme fear in the market 2 weeks ago which is when we took some long positions, but the lighter volume rally is not giving me comfort in adding more positions at this time.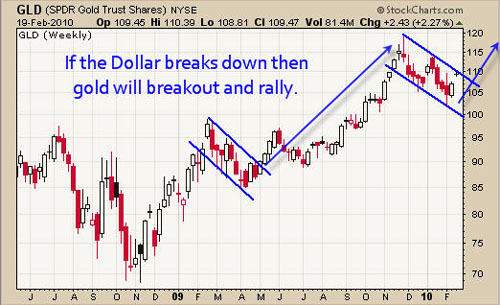 Weekend Trading Conclusion:
In short, we nailed the market bottom on February 5th taking some long positions in US and Canadian ETFs. I tightened our protective stops for these positions a couple days later making sure to protect our hard earned money. The Canadian trades have performed extremely well for us.
Now we just wait for another low risk entry point, which could happen this week depending on what the market does.
If you would like to receive my free weekly gold newsletter, please visit my website:
www.GoldAndOilGuy.com
.
Chris Vermeulen