The price of gold has corrected 15% since Comex futures hit an all-time high of $1,229/oz. in early December. How much more weakness will it take for gold to finish basing for the next big move—a rally that we expect to carry into the mid-$1,400s? A definitive answer could come this week, as the USD, which has been in a bear rally since Thanksgiving, is close to some key Hidden Pivot resistance points. If the dollar were to blow past them it would be akin to the groundhog seeing his shadow (i.e., yet more weeks of winter for gold investors). However, there is evidence to suggest that it might be winter of the mildest sort, as gold has begun to show resilience whenever the dollar rallies.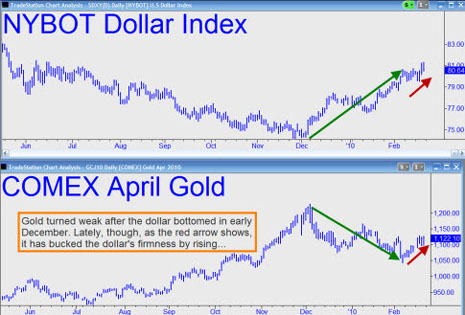 Note that the price of gold declined more or less proportionally when the USD started to rally in early December. Their inverse movement stayed pretty close until recently, with the Dollar Index rising 9.5% off its lows as gold futures fell by 8.7%. But starting about two weeks ago, gold began to rise even when the USD was firm. To be sure, the dollar's steep upward trajectory has flattened some since early February. But it has risen about 0.25% nonetheless, presumably consolidating for another thrust. Despite this, gold has managed to eke out a 6.5% gain over the same time—a performance that should hearten investors who have patiently awaited an end to a correction that is now in its third month.
$1,085 'Worst Case'
For now, though, the dollar appears bound higher. Hidden Pivot analysis suggests that the immediate upside potential of the Dollar Index is about 3.3%. A corresponding decline in gold would bring the April Comex contract down to $1,085—hardly a disaster, considering that gold has already been down as low as $1,044 since the December top. If that's as bad as it gets, it should put no great strain on the nerves of gold investors, even if it tests everyone's patience.