According to data from Houston-based oilfield services company Baker Hughes Inc. (BHI), the number of rigs searching for natural gas in the U.S. rose for the week ended Feb. 12, 2010, reflecting intensified drilling activity by the producers in response to rebounding commodity prices. However, the oil rig count dipped slightly.
As shown in the first chart below from Baker Hughes, rigs exploring and producing in the U.S. totaled 1,346 during the week. This is up by 11 from the previous week's tally and represents the 16th gain in the past 17 weeks. The current nationwide rig count is 54% higher than the 2009 low of 876 (set in the week ended June 12).
The combined oil and gas rig count finally exceeded the prior-year level, now up by 7 from the same period in 2009. It rose to a 22-year high in 2008, peaking at 2,031 in the weeks ended Aug. 29 and Sept. 12.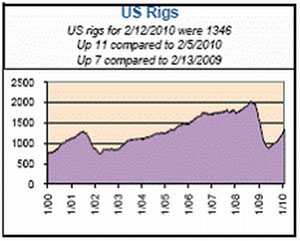 The natural gas rig count increased by 13 to a fresh 11-month high of 891—the 24th gain in last 30 weeks—after bottoming at 665 on July 17, 2009 (its lowest level since May 3, 2002). However, the rig count remains 45% lower than its peak of 1,606 in late summer 2008. In the year-ago period, there were 1,054 active natural gas rigs. This is shown in the following chart, also from Baker Hughes.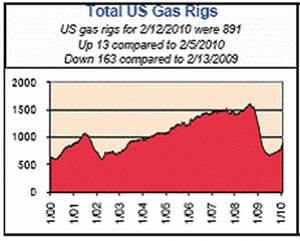 The oil rig count was down by 2 to 443, representing just the 2nd decrease in the past 22 weeks. However, the tally is up more than 62% from the previous year's count of 273, as shown in the following chart from Baker Hughes. Oil rig count peaked at 442 in early Nov. 2008.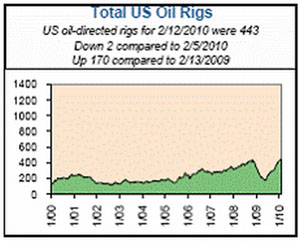 The miscellaneous rig count, at 12, remains unchanged from the previous week.