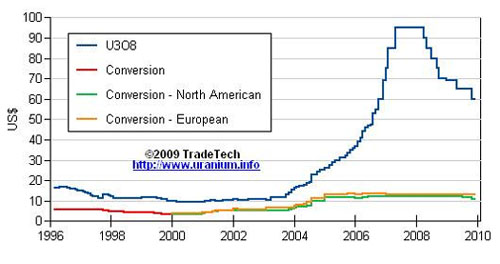 The chart above shows the current price of uranium standing at $60.00/lb, according to TradeTech having come down steadily from around the $95/lb level. In a news release on January 1, 2010, TradeTech had this to say:
A declining trend in uranium prices that began in 2008 continued into 2009, as TradeTech's uranium spot price fell 15% from US$52.00 per pound uranium oxide (U3O8) at year-end 2008 to $44.50 on December 31, 2009.
The uranium market attempted to recover from the effects of a global financial crisis that began in late 2008, and the spot price strengthened by mid-year. However, this trend was short-lived as several sellers competed aggressively to conclude sales and the spot price fell again in the second half of the year.
Buying from Asia is expected to remain strong as India and China, in particular, forge ahead with plans for expanded nuclear energy programs to meet rising energy demand.
Uranium could take some time in convincing us that it is becoming everyone's favorite play. We are half way through the first quarter and the spot price for uranium stands at $42.25/lb as the following chart from U308.com shows. We will observe uraniums progress and look for positive signs of activity before going on the acquisition trail.