With the correction in gold prices now entering its third month, bulls would do well to take the long view. Compared to the gut-wrenching grind to hell in 2008, the current consolidation has been a piece of cake. Since hitting a record high of $1,229 in early December, the gold price, per ounce, has fallen $185, representing a decline of 15%. In comparison, the 2008 correction amounted to a full-blown collapse. Prices fell 35% over a seven-month period, from $1,066 to $694. The chart below shows both corrections. We've also drawn in some hypothetical price bars in red to show what the chart would look like if this consolidation were to track the path of the earlier one. That would yield a bottom near $856 in early June. If that sounds like strong medicine, consider the payoff: The price of gold rose 77% from its October 2008 low. If a similar situation were to play out in 2009, gold would hit $1,515 by summer 2011. That scenario sounds like a scenario that everyone but bullion bankers and Democrats could root for.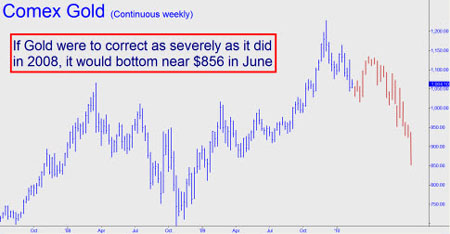 More immediately, the
Rick's Picks
forecasts calls for further slippage down to at least $1,014.20, basis the April Comex contract. That's less than 5% below current levels, so it could conceivably happen by week's end or early next. We'd buy aggressively down there with a tight stop if the opportunity were to present itself. We should also allow for the possibility of a bullish reversal at any time. To achieve that today, the futures would need to hit $1,077.40. A bullish turn from above $1,014.20—from here, perhaps—is not exactly a long shot bet, either, as our analysis for the Dollar Index suggests it may have made a top of at least intermediate-term importance when it hit $80.68 on Friday.